Why EYG is a Brexit safe choice for home improvements now and beyond March 29
Friday, February 22nd, 2019
Brexit. It can't be ignored and is an issue we appreciate is on the minds of many of our customers.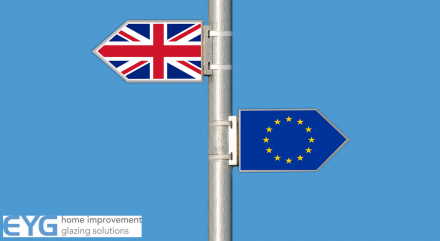 We live in increasingly uncertain times as we approach March 29 – the day the UK is bound to leave the EU by under Article 50 – and perhaps the only certainty ahead is that there will be yet more uncertainty to come.
Whilst the negotiations over Britain's exit deal have made constant news headlines and created great economic uncertainty for many businesses, we at EYG recognise it is also a time of confusion and concern for consumers.
Many have been left wondering what their rights will be when spending significant amounts of money on products going forward, and perhaps reluctant to press ahead with some much needed home improvement plans.
For customers of EYG however, little will change.
As a business which has been established for close to 50 years, we benefit from all of our products being manufactured at our own dedicated facility in Hull, East Yorkshire.
We have long-standing and established workforce of more than 300 people maintaining the quality and efficiency of our products and services.
Our founding directors remain with the business today, supported by a long-serving management team, and all of this makes us well placed to head into this period of change with great confidence.
Strong financial performance can make EYG customers confident
That confidence is something we believe we can pass on to our customers – a confidence not replicated by many of our competitors who have not been around so long, and don't have the same financial stability.
As a company with an annual turnover in excess of £24m, a commercial division which has recently secured a string of new major contracts, and a domestic arm which last year secured sales of more than £14million for windows, doors, conservatories and orangeries at customers' homes, EYG products are in greater demand than ever.
Our business has come through difficult trading conditions before, including two hard-hitting recessions, and it has been the strength EYG as a collective, from the industry leading quality of our products to the strength of our UK wide order book, that has brought assurances to our customers.
That remains the same today.
No matter what happens with Brexit, people turning to EYG for their home improvements do so with the knowledge that they are spending their money with a debt free business which has a 100/100 Experian Credit Rating Score (meaning we are rated the lowest risk).
That financial stability means we will continue to be able to support customers in adding a dream extension to their home, or new windows and doors.
We can do this by offering flexible payment plans, meaning customers don't need to pay a penny for 12 months,
This enables them to keep their hard-earned cash in the bank, and by offering 10-year warrantees on products we offer further reassurance – something some other firms claim to offer even through their business has not yet even traded 10 years!
Our message is simple.
In times of change and uncertainly, EYG has been a constant.
It is why more customers turn to us each year, and why we look ahead to another 50 years with great confidence.