EYG helps Hull men's charity by supplying and fitting 25 windows
18th February 2016
EYG are helping a men's charity by fitting windows at a new base which will become a meeting place for vulnerable or lonely men in the city.
Men In Sheds is a newly-established charity which will run from the Old Pavilion, off Beverley Road, Hull, offering a variety of activities, such as woodwork or photography, for men to come together and enjoy.
Now, several businesses in Hull have joined forces to revamp the old building, DIY SOS-style.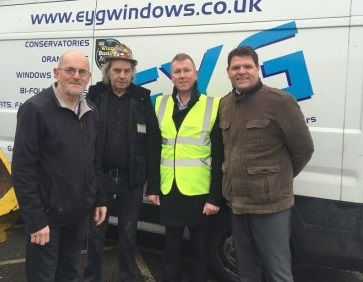 EYG are supplying 25 windows for £2,500 – the full cost would have been around £5,000. They have also dedicated two fitters to be on site all this week.
The charity Men In Sheds is supported by the Smile Foundation, who are helping them with finding businesses to provide either materials or labour.
Nick Ward, Managing Director of EYG, said: "We are supplying and fitting 25 windows, subsidising the cost by a half. We are a long-time supporter of the Smile Foundation and have raised in excess of £40,000 in the years that we have partnered with them.
"When they came to us for help with Men In Sheds we were impressed by the project, and how it helps a section of the community that doesn't get a lot of help. We recognised that it's a very worthwhile charity that seeks to bring lonely and vulnerable people together and give them a sense of purpose and create new friendships."
"We hope that the donation from EYG will greatly help in quickly establishing this group and allows them to expand their services and reach more people."
Men In Sheds will encourage men to get involved in different projects and activities, such as woodwork, photography and IT, sharing skills and hobbies with each other.
The pavilion is expected to be operational in April.
The Sewell Group, MKM and Sargent Electrical are also providing help and labour.
Men in Sheds member and trustee John Nicholson said: "The amount the businesses are giving us is great. It means we have more money to put towards equipment, rather than having to spend it on the refurbishment, which is a great help.
"The work is moving on quite rapidly and we are really excited for the doors to open, as we will be able to help and support more members. We are so grateful for all of help we are receiving."
"We're delighted to continue our support to see the project move to the next level."