Your COMPLETE guide to the best conservatory roofing options
22nd April 2018
Improvements in conservatory roof technology has seen the number of available options increase in recent years.
Before 2010, a conservatory roof had to be 75 per cent translucent to comply with building regulations – limiting the choices available.
Fortunately, these rules have now been relaxed and homeowners can select from a much wider range of conservatory roofing options.
Deciding which is the best conservatory roof option for you depends largely on your requirements - and what you want the space to achieve. This will be determined by factors like the amount of light needed, usability of the space, maintenance, the roof's lifespan and (of course) your budget.
Whether you want to buy a new conservatory or transform an existing structure by replacing the roof, this article aims to explain all the different conservatory roofing options available…
What conservatory roof styles are there?
Polycarbonate conservatory roof
Polycarbonate is probably the most affordable conservatory roof option. Great for letting in natural light, these sheets require little to no maintenance and can last for up to 15 or 20 years.
They are also available in different colours and u-values. However, they obviously do not boast the same insulating properties as some of the more robust alternatives.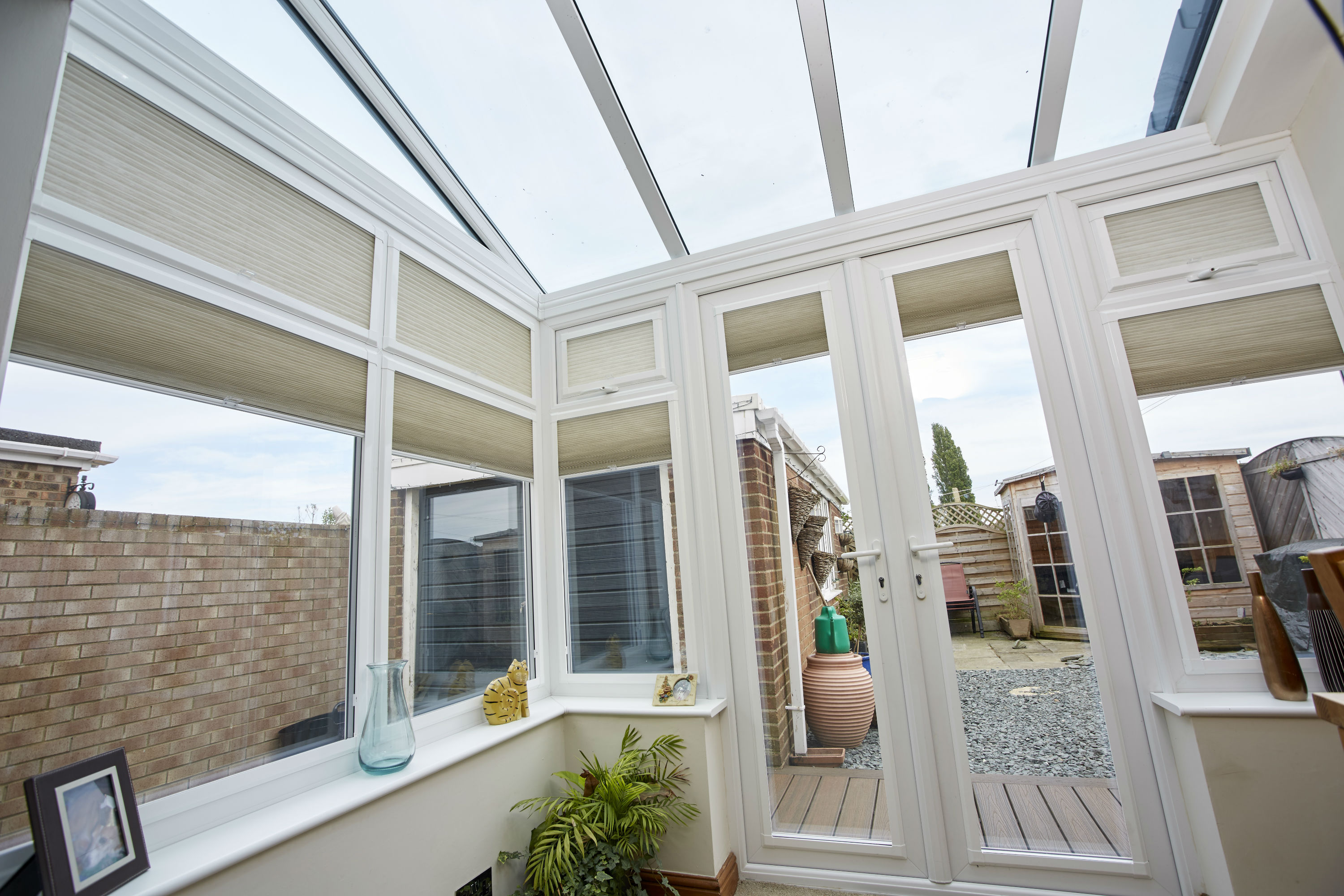 Glass conservatory roofs
Glass is still one of the most popular materials for conservatory roofs because it helps to flood the space below with natural light.
Advances in glazing technology means they are also very thermally efficient and can help prevent heat loss. The application of special coatings can improve performance even further.
Tinted glass (above) reduces the intensity of the sun's rays, whilst self-cleaning glass has a coating that reacts with UV light to break down dirt and minimise the need for maintenance.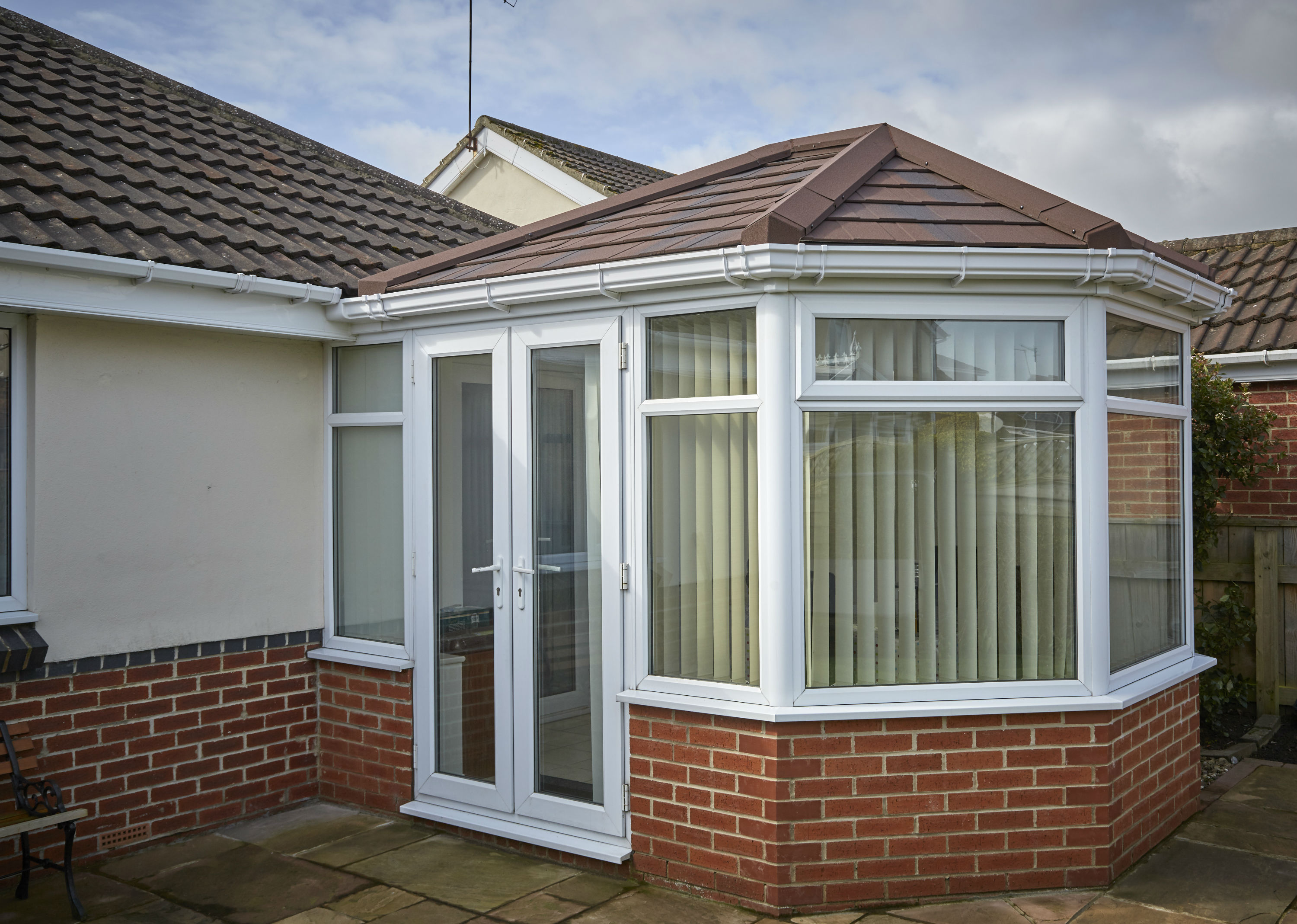 Tiled conservatory roofs
Perfect for new or existing conservatories, tiled conservatory roofs (above) are a great way to minimise temperature fluctuations and add a lovely insulated extension to your home.
Adding a solid roof will mean your conservatory is never too cold in winter or too hot in summer, making the space useable all year round.
Whilst it will not let in as much light as a glass or polycarbonate alternative, you can incorporate a Velux-style window into the design to make the room more airy and welcoming.
Match the tile colour to your home's existing roof and you'll be able to blend it in seamlessly and your beautiful vaulted ceiling can be plastered and decorated to suit your interior design theme.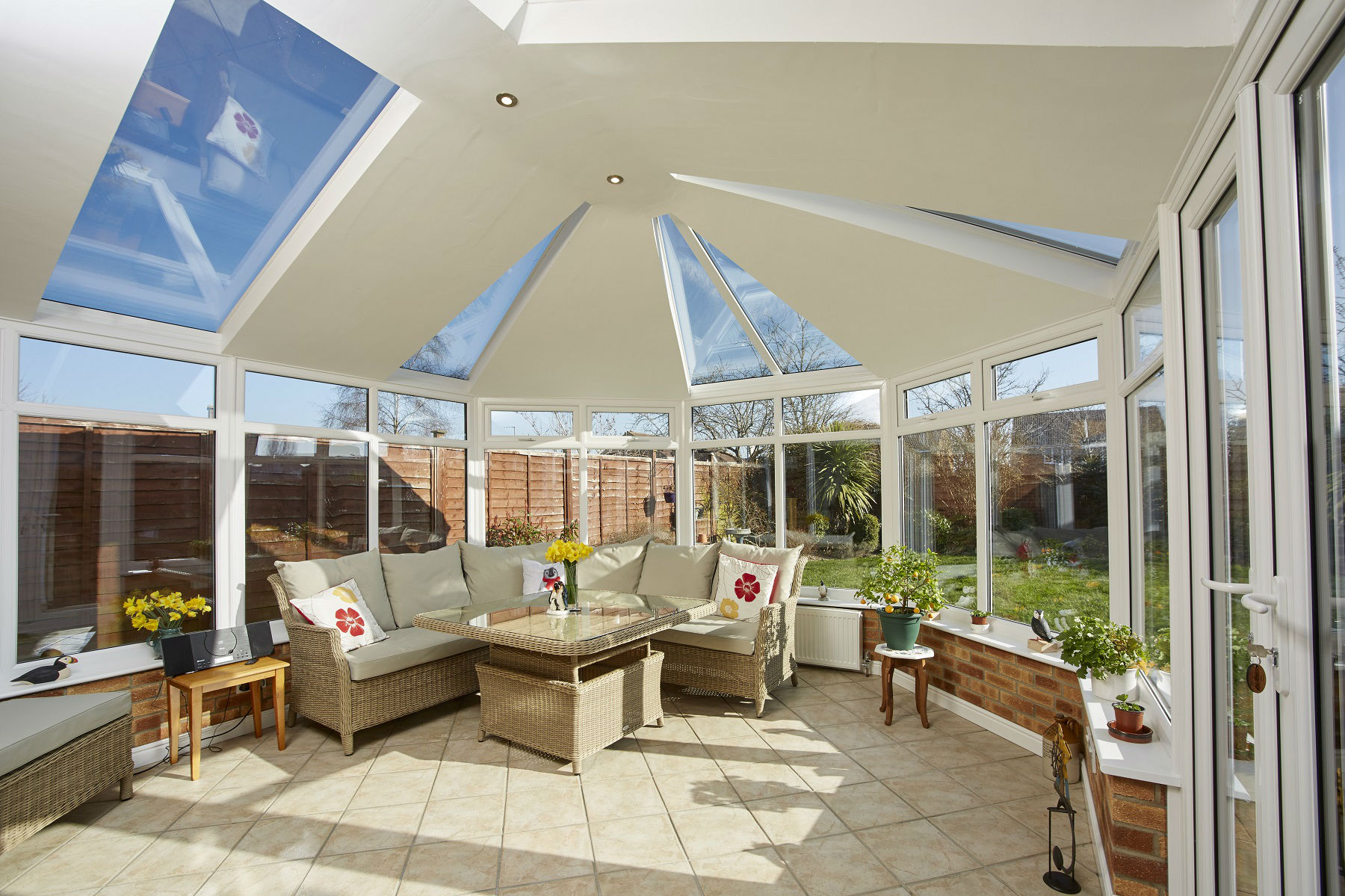 Hybrid roofs
One of the latest conservatory roofing options in the UK, our exclusive Hybrid roof (above) allows homeowners to enjoy their living space in all seasons.
Made from a combination of solid and glass roof panels, the vaulted ceiling is highly energy efficient and reflects heat back into the room. As well as keeping out the cold, this roof will create a beautiful light-filled room that maintains a comfortable temperature for 365 days a year.
Designed to be completely bespoke, Hybrid roofs are one of the most requested features when we draw up the blueprints for a new conservatory. However, they can also replace almost any glass or polycarbonate roof on an existing structure - even if the original was not fitted by us.

Weigh up your objectives before making a decision
Whether you're thinking about adding a conservatory to your home or updating an existing one, deciding which roof option to choose is an important decision.
Think about your overall objective carefully...
If you want to create a space which is as light and bright as possible, a glass or polycarbonate roof will do the trick.
To enjoy a combination of warmth, light and all-year round usage, a Hybrid roof may be your best bet.
If your aim is to create an extension that can be used every day, a tiled conservatory roof will probably be the most appropriate choice.
In terms of maintenance, tiled roofs outperform most of their rivals as they require virtually no upkeep. They also boast a 50-year lifespan – far more than glass roofs which may need replacing after 20 years.
For some homeowners, budget is the most important factor in their decision. If this applies to you, a polycarbonate plastic roof will always be the most affordable option.
However, it's worth remembering that the cheapest price is not always the best option. If the roof you choose is unable to match your usability requirements, going for the cheaper option might prove a false economy.
Before making a decision either way, consider your budget and ALL of the available options carefully as this will help you to settle on a solution that provides maximum enjoyment.
If you need any help or advice, please get in touch or call 0800 181888 to discuss your home improvement project with one of our experts.