Why we were delighted to help Scarlett find greater comfort at home – and how you can help
6th April 2020
The mother of a 12-year-old girl who has a rare form of epilepsy which causes her to suffer multiple seizures and require round-the-clock care has thanked EYG for helping to create a 'safe and comfortable' environment for her at their home.
Lauren and Darren Anderson's daughter Scarlett-Olivia was diagnosed with Lennox-Gastaut syndrome in 2012, which causes learning and cognitive difficulties, as well as frequent seizures.
It was a situation they had managed at home, watching over her 24 hours a day to protect her whenever she had a seizure.
However, Scarlett's condition dramatically worsened shortly after the family had moved into a new home, which was a 'shell' that they'd planned to renovate over time.
With Scarlett's seizures often increasing to as many as hundreds a day, she at one stage had to be placed into an induced coma in hospital for a week.
The family had to convert a downstairs room at their new house into a bedroom for Scarlett and mum Lauren, who has to remain by her side all night in a fold-out bed to ensure she is on hand when she suffers seizures during her sleep.
This can now happen 'almost constantly throughout the night', says Lauren.
Room downstairs had to be converted to bedroom
Scarlett's parents launched a fundraising drive to help afford the specialist care and protective equipment she requires at home, including a specialist enclosed bed to keep her safe, a wearable device to detect seizures, monitor her oxygen levels and for rehabilitation.
It was then that family friends also contacted EYG asking for help as huge old patio doors in the downstairs room which had been converted into a makeshift bedroom were causing it to be cold and draughty, leaving Scarlett at greater risk of infection.
"We were contacted by a friend of Scarlett's parents who explained the really tough time they were going through," said Nicola Arnott, Marketing Director at EYG.
"They also explained the huge costs the family had suddenly realised they were facing to be able to provide Scarlett with the care she needed at home given the change in her condition.
"It was clear from the very start that Scarlett's family are not the kind of people who like to ask for help, they just get on with doing the best for their children. This is why their family friend approached us, and having spoken to Lauren and Darren we wanted to help immediately as it was clear this work was needed, and they didn't have the spare money to put towards home improvements.
"We agreed to replace the French doors in Scarlett's bedroom free of cost as soon as we could get them manufactured and installed, putting in doors which are the highest performing in terms of energy efficiency and security.
"It was the least we felt we could do, and now we want to help spread the word and help this lovely family raise the money they need to be able to care for Scarlett's every need going forward."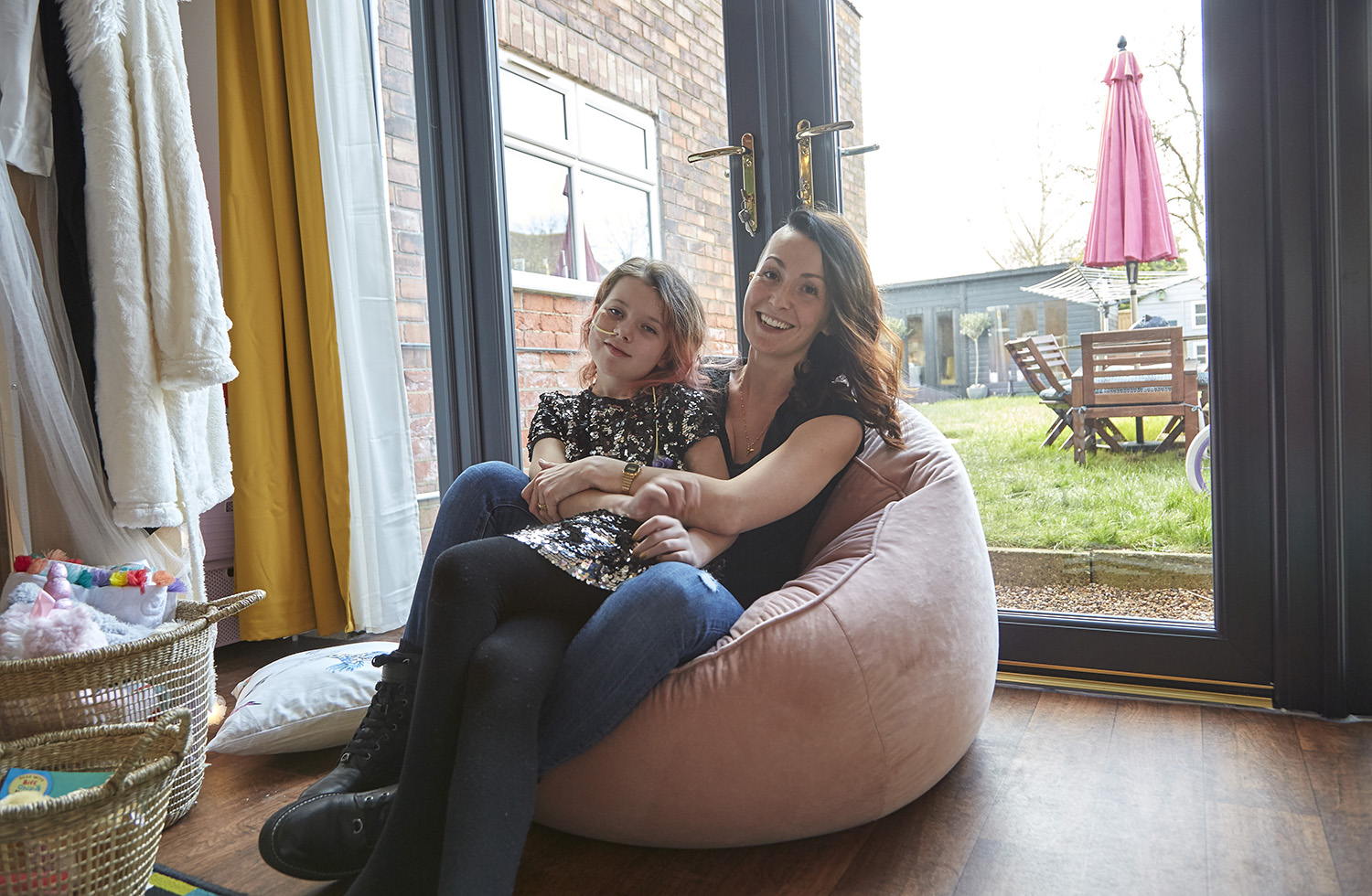 Fund-raising more important than ever after disappointing news
Scarlett currently has a specialist enclosed bed temporarily loaned to the family by a charity.
They faced a cost of around £11,000 to buy their own and other specialist equipment, such as adapted car seats, cost thousands of pounds also.
"Many people think that families in situations like ours get all the support they need from local authorities but that is not the case," said Scarlett's mum Lauren.
"We were given the impression that our local authority would cover the cost of buying one of the specialist beds for Scarlett, but we've recently been told that is not the case and that they'll only cover crash mats, which was hugely disappointing.
"We'd raised more than £7,000 towards buying our own bed but because we thought we'd be getting it we spent some of that money on other things like the car seat and the device which detects seizures.
"The bed has always been the most important thing though as it keeps her safe during the night when she has so many seizures and can become uncharacteristically aggressive. We've found ourselves almost back at the start with that.
"Longer term we also need to provide a wet-room as I we can't carry her up and downstairs, and an overhead hoist system which will allowing Scarlett full access to the ground floor and gardens.
"We've had to accept that she will not live independently, and perhaps that we as a family will not get the support from authorities that we anticipated.
"We've exhausted all anti-epileptic medications in a bid to try control Scarlett's seizures but nothing has worked. We are now aiming to trial her on full extract cannabis products. This is obviously extremely costly, however, results can be promising.
"The constant battle to get the support you need really does impact on you and that is why EYG offering support without hesitation was amazing and so appreciated.
"There are companies and people prepared to go above and beyond and the new patio doors have made a huge difference to Scarlett's room. It has made it much warmer, safer and comfortable, and that was important as Scarlett is prone to infection, which is of course very dangerous."
"When EYG contacted us to say they were putting the doors in for us we just felt supported, as we have thanks to all the wonderful people who have donated to our fundraising so far. That support means a lot to us and we are very grateful."
Like all across the country, Lauren, Darren and Scarlett are currently isolating at home with Scarlett's older brother Harry, 16 and sister Lilah, five.
"These are tough times for everybody but we had to be extra vigilant with regards to Scarlett so my husband has been off work and I took our kids out of school a week before they closed. We always have to think about Scarlett being exposed to risk," added Lauren.
"We've had great support but we have so much more still to do. Hopefully, when we all come through these tough times, we'll be able to fundraise again. There are people, and companies, who are willing to help and that keeps us going."
To donate to the family's fundraising go to https://www.gofundme.com/f/scarlettolivias-equipment-fund