Which is the best type of flat roofing?
30th June 2022
It is not the most exciting home improvement – but one that home owners will ignore at their peril.
Re-roofing your garage or flat-roof extension is a necessary chore, but it doesn't have to cost a lot, and it is essential maintenance to keep your buildings well-managed and your contents safe and protected from leaks and the ensuing damage they can cause.
The good news for home owners is that roofing materials are much more sophisticated now, and they're still cost-effective.
The EDPM rubber roofing product has revolutionized the flat roof market and stands out as a high quality product which requires no maintenance and lasts substantially longer than any felt or asphalt roofing alternatives.
As trusted installers of a variety of solid roofs, EYG is now also specializing in EDPM flat roofs for garages and extensions.
EYG's flat solid roofs use the most effective roofing material which provides waterproof, UV-proof and long-lasting protection for your garage or home extension.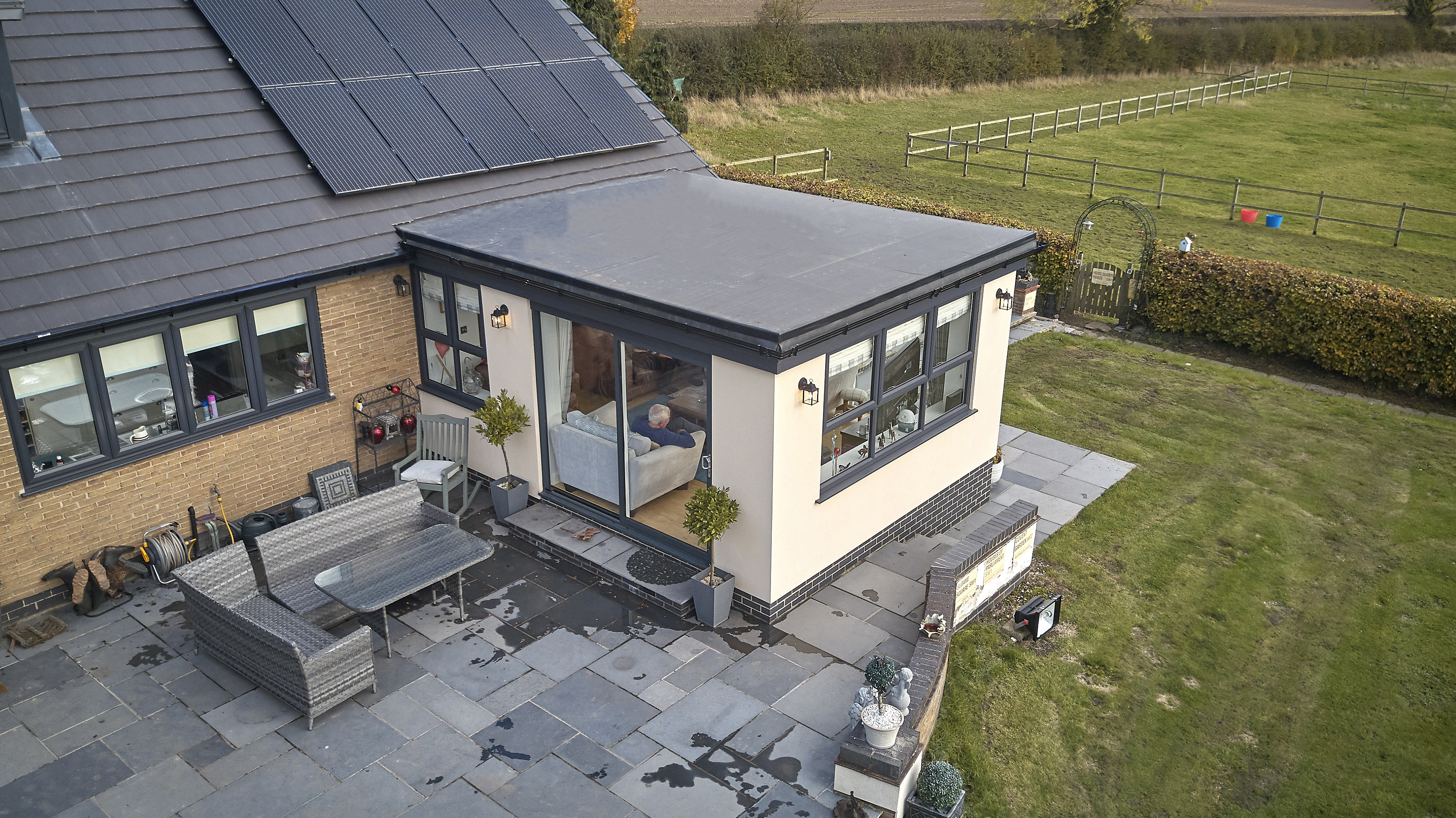 How can I improve the look of my garage?
Re-vamp or repair your leaking roof with our EDPM flat roofs - quite simply the most cost-effective and best roofing material on the market if you're looking for cheap garage roof options which also provide a superior finish.
We can also upgrade your fascias and guttering on garages and flat roof extensions; and if you want to breathe new life into your garage, we can also replace your existing garage door.
What is the best garage roof material?
An EDPM roof is quicker and easier to install, as it doesn't involve dangerous heating processes, unlike felt and asphalt.
The rubber roofing material provides waterproof, UV-proof and long-lasting protection for your garage or home extension and can withstand extreme temperatures.
It is also maintenance-free and less susceptible to rotting or leaking.
Asphalt and felt roofs have been popular for decades, yet they are prone to leaking and only last for around 10 to 15 years.
EDPM is now on track to becoming the UK's most popular roofing material due to its far superior weatherproof properties.
It can also last for at least twice as long as asphalt and felt roofing, making it more cost-effective too.
Can I carry out my own garage roof repairs?
Re-roofing a garage or side extension is not a big expense so can be carried out by a professional without home owners having to fork out thousands of pounds.
It is worth remembering that re-roofing your flat roof building could save you in the long-run as it protects your belongings from getting ruined by leaks.
However, Checkatade has the following advice for people tempted to do a DIY job on their garage roof.

Checkatrade, the trades directory which EYG is a verified and approved member of, recommends that people hire a professional for roof repairs.
There are many pitfalls to doing the work yourself, which include:
Working at heights can be perilous if you're not trained
While carrying out minor repairs might be possible, fitting a complete roof can be challenging for those not skilled
Checkatrade recommends replacing the entire roof material rather than carrying out several small repairs if it is damaged
A DIY roofing job could lead to costly mistakes, and put the contents of your garage at risk of water damage if the roof leaks.
Click here for more information about EYG flat roofs