What to consider when planning your dream garden room
20th July 2022
There are many things to consider when planning and designing a garden room and the first and most important one is: what are you using it for?
It may sound obvious, but often people like the look of a garden room but don't have a firm idea for what it will be used for, or they haven't considered whether it can be multi-functional.
One couple who recently bought a garden room from EYG stated they wanted a gym and yoga studio, but after careful discussions with our sales advisor, they realised they would also like to use it as a space to entertain friends and family.
This meant they opted for bifold doors instead of French doors, as they decided it would be nice to open the room right up to the garden for hosting a large summer party.
Having a firm idea of how you want to use it will prevent you from making any mistakes which you later regret.
Plan your lay-out
Positioning of windows and doors, and more importantly, the size you go for, are all key decisions which need careful consideration.
It can help to take a can of ground marking spray paint and mark out on your lawn where you'd like your garden building to go.
You can then take a table and chairs, or whatever furniture you'd be putting in there, and position them within the space.
Sit within the space to get a feel for it. Is it too small, or maybe too big? Would there be space for all the furniture you'd want to include?
Then, take a look around your surroundings, which is the best view – that's where you want your biggest window to be positioned.
Is there a scruffy part of the garden to the side, or behind you? Leave a solid wall where the garden is less than perfect.
Take those steps prior to ordering your garden building and you will ensure you get exactly what you want.
Garden rooms have many uses
The beauty of a garden room is that furniture tends to be freestanding so it can be stripped out and replaced at any time.
Your home gym can soon become a home office or a party room or even a dining room at a moment's notice, and with a quick re-shuffle and swapping furniture from your home.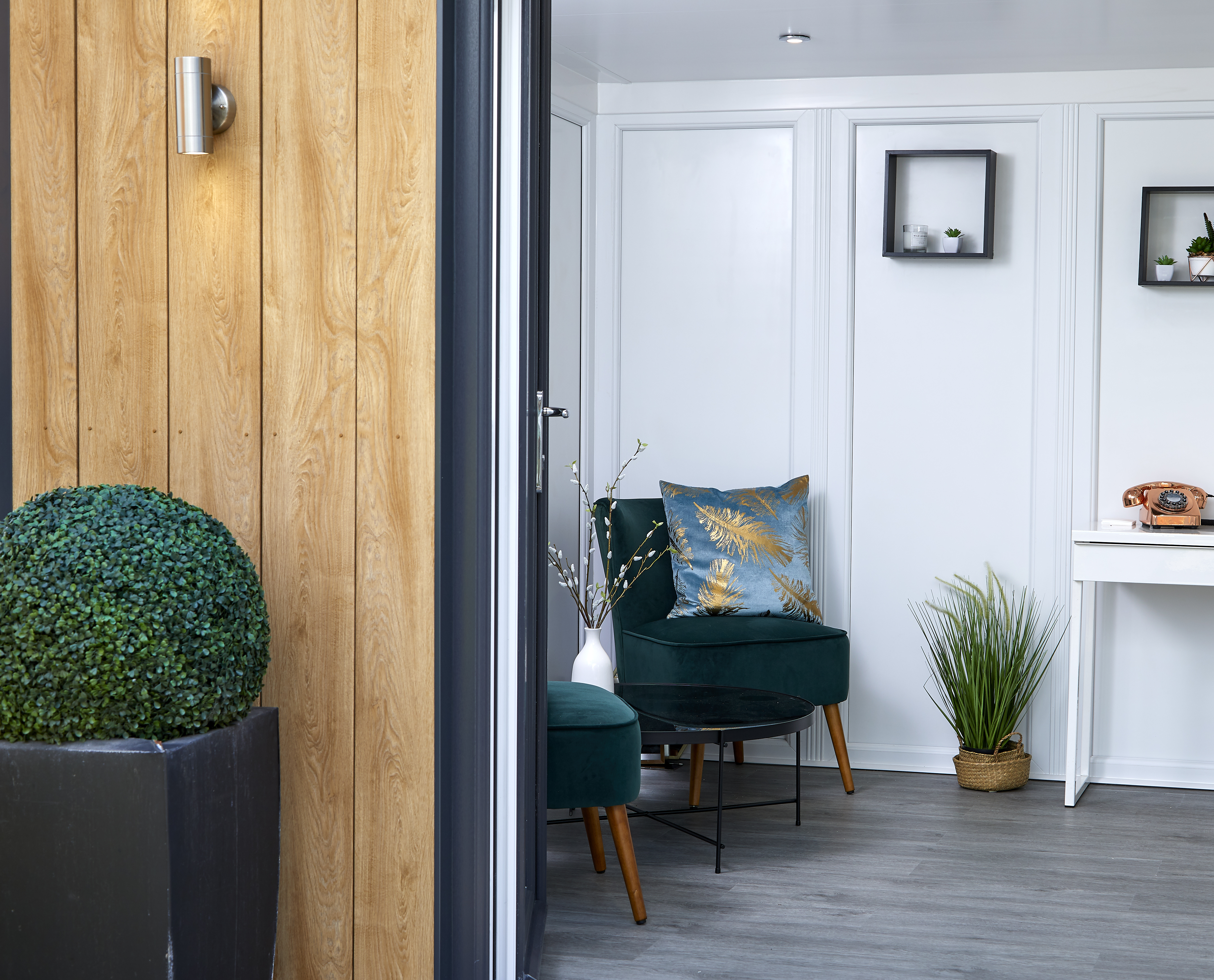 Our sales advisor Anita says: "Garden rooms can be multi-functional, I've seen customers who set it up as a lovely sitting room, but with a desk in the corner, so it's a relaxing retreat but also a home office.
"We always advise customers to think about all the different uses as it makes a big difference to where they might position windows and doors."
Our insulated garden rooms are bespoke, so can be made to any size and any configuration.
Customers can choose from any colour and style of window, and either sliding, bifold or french doors.
There are also several colour options for the external cladding, and various options for the flooring.
Garden rooms are more popular than ever
Garden rooms have soared in popularity in the past few years, partly due to the change of working habits which have seen more people working from home.
One in ten home improvements purchased in the UK in the past two years were garden rooms.
Also, repeated lockdowns meant more people are investing in home bars and are enjoying more socialising at home.
Anita says: "Garden rooms are a more affordable option than a conservatory, and as they're freestanding they bring a sense of privacy and peace away from the hub of the family home.
"Stepping outside of your home into a different space for socialising feels a bit special.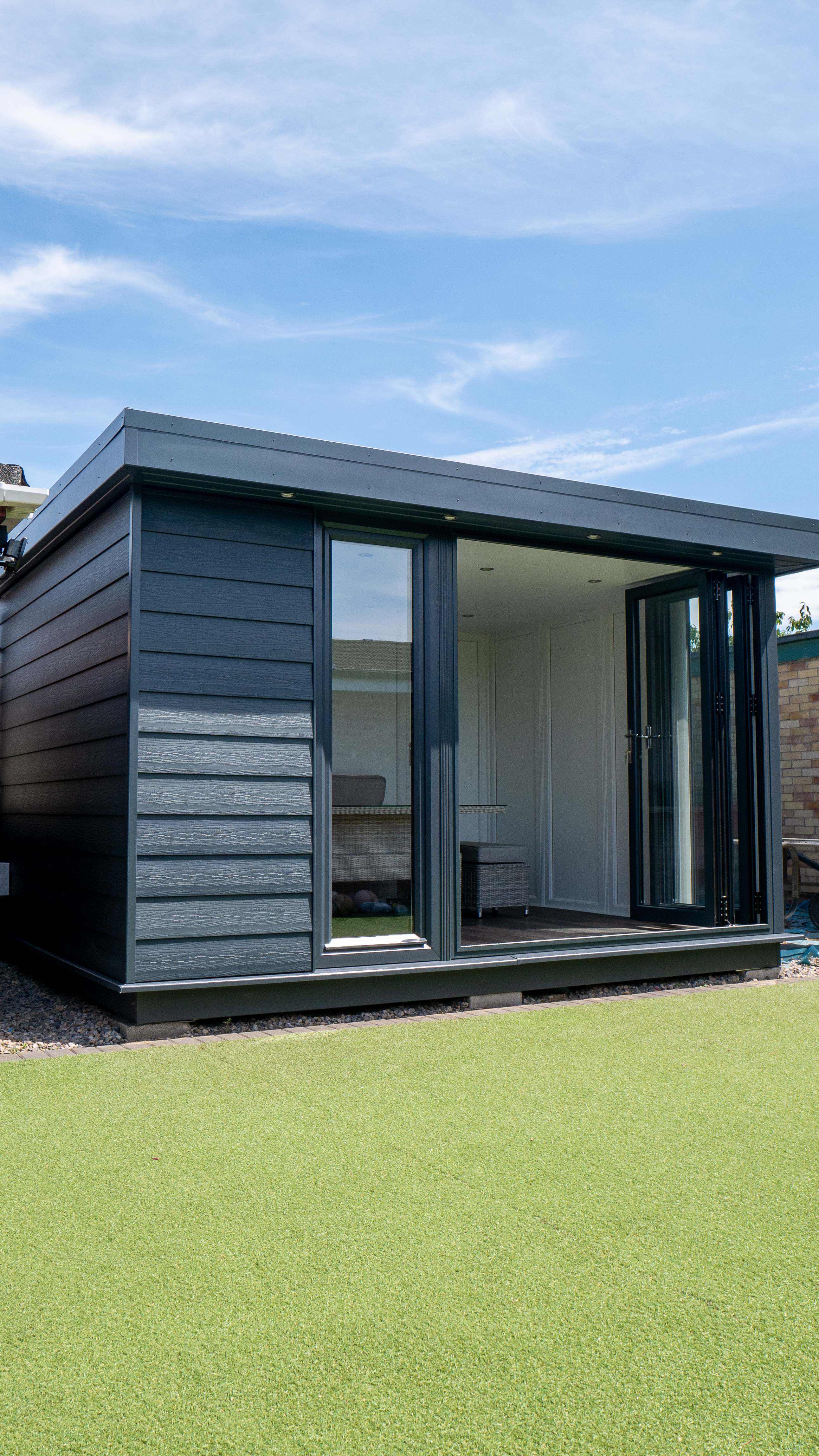 "Similarly, many people enjoy the tranquility of working in the garden, especially if they have a noisy busy household."
Anita adds: "It's a room that can be used all year round and it is maintenance-free.
"Customers love the versatility of having a whole new room which is useable all-year-round."
If you are interested in having a bespoke garden room, our sales advisors will help guide you through the planning and lay-out to ensure you get your dream garden room. For a free no obligation quote, click here.