Is a conservatory roof replacement worth the cost?
18th October 2023
There are many different factors to consider when deciding whether a conservatory roof replacement will be worth the costs involved.
Conservatories were originally defined as a home improvement which had to have 75 per cent of its roof and 50 per cent of its walls constructed from glazed materials.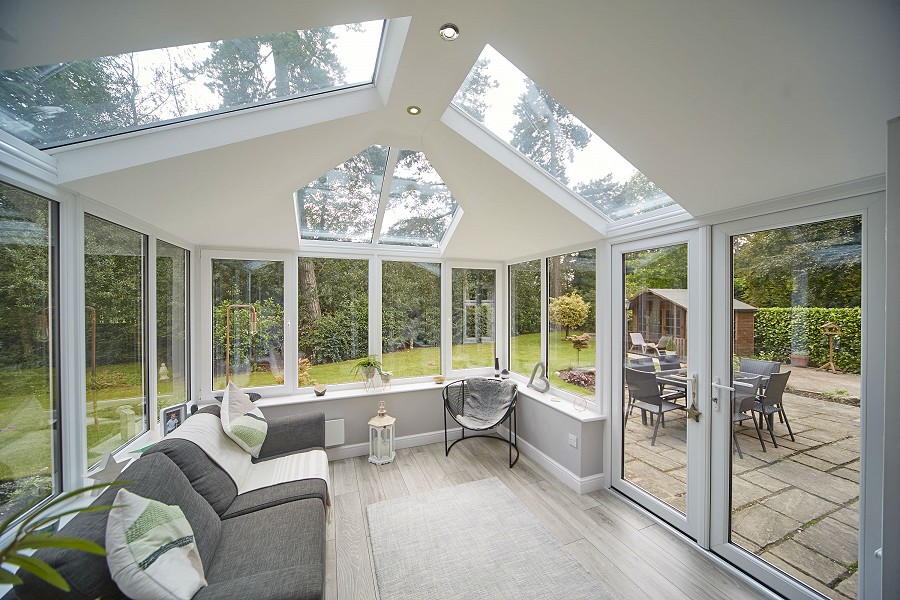 Because this definition meant these structures did not need to comply with Building Regulations, homeowners across the UK were persuaded to have what amounted to little more than a glass box attached to their property.
Unfortunately, these older conservatory designs were often too cold in winter and too hot in summer.
Nowadays, changes in Planning Permission and Building Regulations mean that you now have more conservatory options than ever before.
This relaxation in the rules also means you can replace your conservatory's roof with something more substantial, which is why a number of different insulated conservatory roof options are available in the UK.

Enquire today for your free no obligation quotation!
If you don't want to pay for a new conservatory but you have one which leaks, suffers from mould and condensation or that doesn't maintain a steady temperature all year round, installing a new insulated roof could provide the perfect solution.
Whether this is a good idea depends completely on your own reasons for doing so, but before making a decision here are a few things to consider...
Why traditional conservatory roofs were inefficient
Often made from glass panes or thin sheets of polycarbonate, traditional conservatory roofs were usually poorly insulated – resulting in the room being too hot in summer and freezing cold in winter.
If you have a conservatory which is more than 20 years old, there's a good chance that the roof is not very energy efficient. This can mean that heat escapes easily and you spend much more money on heating the room, which could also suffer from damp as a result.
Replacing an outdated plastic or glass roof with a new insulated one will transform the appearance of your conservatory. It will also change the way it feels, alter its acoustics and increase the amount of time it is used.
What types of replacement conservatory roof exist?
Have you bought a home with an existing conservatory that's looking a bit old and unloved? Or do you have an older conservatory which no longer suits your family's needs?
If the answer to any of these is yes, it's definitely worth considering a solid roof as a replacement.
Whether you opt for the traditional glass look, a fully tiled conservatory roof or a modern Hybrid option – a solid vaulted roof with glazed panels – each one will let you control the room's temperature much more easily. This means you could start to enjoy the extra living space all year round, transforming how you use your home.
Although there are a number of replacement conservatory roof options available to UK homeowners, EYG has three fantastic solid roof solutions to consider:
Energy-efficient glass
Recent developments in glass technology means that installing a low-emissivity glazed roof (pictured above) can better insulate a conservatory by reducing the temperature fluctuations caused by the sun.
This will make your conservatory more comfortable to use and help to lower your energy bills. Available in self-cleaning glass, it's the ideal way to achieve a traditional look but with modern benefits.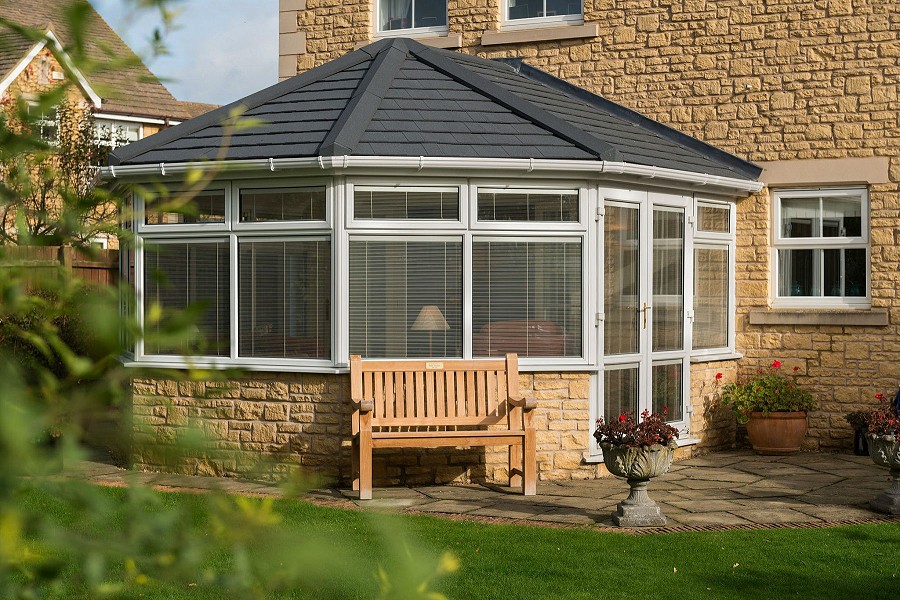 Solid tiled conservatory roofs
Lightweight and easy to install, tiled conservatory roofs (pictured above) are the ideal solution when you want to create a cosy and comfortable space.
They not only help to eradicate draughts and provide added insulation, they even come with a choice of tile colour to help it blend in with your home's existing appearance.
Hybrid roof
Installing an aluminium and glass Hybrid roof (pictured above) helps to achieve a more modern look and will bring any old conservatory back to life.
Constructed from solid and glass panels, this lightweight vaulted roof creates a beautiful light-filled space which will maintain a comfortable temperature in all seasons.
Finished and plastered like a normal ceiling, you can decorate and choose a colour scheme to suit your style.

What are the main benefits?
Whichever replacement roof option you prefer, they all have 10 common benefits:
Far cheaper than a new conservatory
Can use the space all year round
Quick and easy to install
Better thermal efficiency
Add value to your home
Greater temperature control

Help reduce glare when reading iPads or tablets inside
Lightweight - room structure won't require changes

Makes the space more appealing
Saves money on your energy bills
Does a replacement conservatory roof need planning permission?
Planning permission is not normally needed for a replacement conservatory roof because it has already been obtained when the structure was previously put in place, meaning the roof can be replaced without any hassle.
However, if you are re-roofing an existing conservatory by installing a solid roof rather than a glass or translucent roof, a Building Regulation Application will be required.
More details can be found from the Local Authority Building Control for England and Wales or just ring up your local Building Control department and ask about any potential issues before undertaking any work.
If you opt to have EYG carry out your replacement conservatory roof work, our planning experts will conduct these checks on your behalf at no extra cost.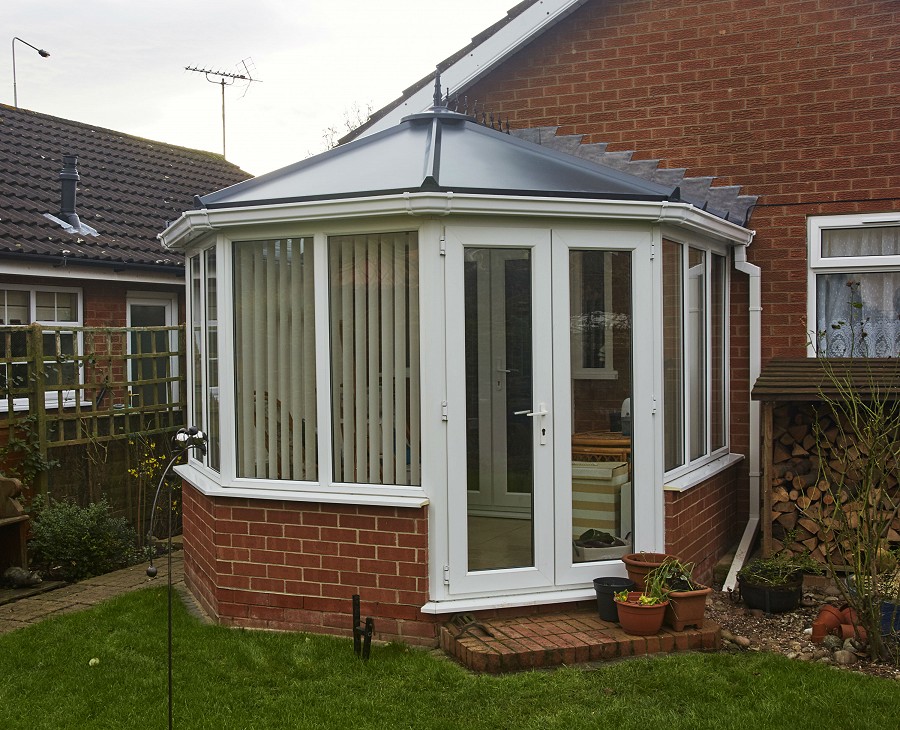 Fast, fuss-free installation
Upgrading to a new solid conservatory roof typically takes just one week, transforming your room into a comfortable and welcoming living space.
If you do not know who fitted the conservatory originally, it doesn't usually matter because replacement roofs are suitable to be retro-fitted onto all conservatory brands.
Obviously, this does depend on the build quality of the original structure, but reputable companies who offer this service will be able to tell you whether or not the installation is possible.
Enlist our help and we will carry out a FREE initial roof check and handle all the necessary regulations to ensure your installation is fully compliant.
How much does a replacement conservatory roof cost and is finance available?
Providing an accurate quote for a replacement conservatory roof is difficult because each installation is 100 per cent bespoke - and the cost depends on factors like size and the style of conservatory it will be added to.
Typically, a roof replacement will be around 60 to 70 per cent cheaper than the cost of the same size conservatory – a substantial saving.
In order to give an accurate quote, it's a good idea to get in touch with a design expert so they can visit your property and conduct a free initial assessment.
Having carried out home improvement projects throughout the UK, we would be happy to do this – simply send us your contact details and we'll be in touch to arrange a convenient time.
With a range of flexible funding available to help spread the cost – including low deposits, affordable monthly instalments and the option to buy now and pay nothing for 12 months – we make it easy to improve your home.

Weigh up all the options before making a decision
Whilst new Building Regulations mean that you are allowed to install an insulated replacement conservatory roof, it is worth weighing up how much extra use the room will get throughout the year to see if it will justify the costs.
The most important thing to check is that the original structure is not too lightweight to support a new roof. If it is substantial enough to do so, with suitably strong foundations, a replacement roof is one of the most cost-effective ways to breathe new life into an unloved and under-utilised living area.
If you have an older conservatory, constructed from cheap uPVC or built with a timber frame that may now be rotten, its double-glazed windows could now be past their best. In which case, paying thousands to fit a new roof on top of such a poor base structure is probably not a wise 'investment' to make. Rebuilding the entire room and replacing it with a new conservatory or orangery would probably be a much better idea.
Before making a decision either way, be sure to research ALL your options carefully as this will help you to settle for a solution that's best for both your budget and personal circumstances.
If you do need any free help or advice, please call 0800 181888 to discuss your project with one of our experts.
We have a large range of replacement conservatory roofs - to suit all homes and budgets. Call us today on 0800 181 888!