How to clean uPVC windows
15th May 2018
uPVC windows are a low-maintenance product that are easy to clean but, even though they're suitable for every type of weather, they will eventually get dirty as muck, dust and grime builds up on them over time.
In most cases, perseverance and bit of old-fashioned elbow grease will bring a shine back to your uPVC window frames.
The best way to clean uPVC windows is to:
Open the window as far as you can and remove any built-up dirt by vacuuming in every alcove – including the hinge or opening mechanism. If your hoover has a soft brush nozzle, use it to minimise the risk of scratching your uPVC windows.
Use a bucket of warm soapy water (washing up liquid is ideal for this task) and a soft cloth or sponge to wipe down the dirty window. Do not use scouring pads or cream cleaners as they can scratch the uPVC and remove its 'glossy' finish.
Remove any excess water and dry using a clean and non-abrasive cloth such as a tea towel, kitchen roll or old T-shirt or rag.
To achieve crystal-clear window panes, mix 2 cups of water with 1/4 cup vinegar and 1/2 cup of liquid soap and lightly dip some old newspaper into the cleaning solution. Use the newspaper to wipe the windows in a circular pattern to remove any smears, wax and dirty spots that have built-up on the glass.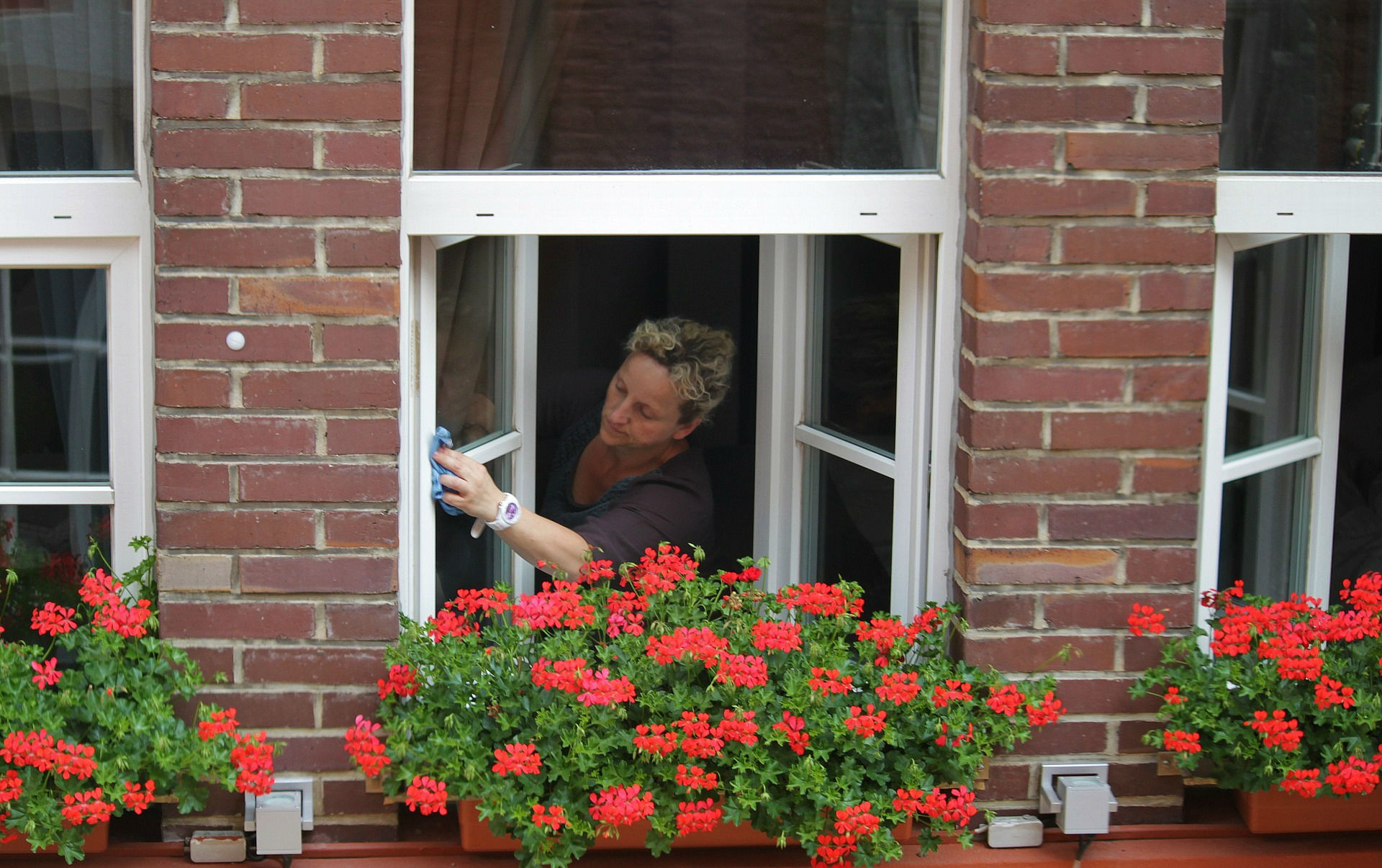 How to clean and whiten uPVC window frames
Some older uPVC windows can lose their lustre and shine because of a significant build-up of dirt and grime on their surface.
If this scenario sounds familiar, you may not need to buy 'specialist' cleaning agents to bring it back to its original finish.
The best way to clean upvc window frames is to:
Mix 1 cup of vinegar with 4 cups of hot water and pour the mixture into a sprayer.
Spray it on the uPVC and leave it to stand for around 10 minutes.
Use a clean, dry and smooth cloth to wipe down and remove any excess liquid.
If this doesn't work, baby wipes are great for delicate cleaning jobs and will clean most things.
Don't use cream-cleaners or abrasive cleaning solutions because they will scratch the top layer of the uPVC and permanently remove the 'shiny' or 'glossy' finish.
If you find that this is not strong enough to remove a build-up of dirt, dead insects, cobwebs and grime; you may want to use one of the specialist uPVC cleaning products that are available to buy.
The following products are all suitable for the task:
De-Solv-It UPVC cleaner
EverBuild PVCu solvent cleaner
No-Nonsense uPVC cleaner
Thompson's UPVC Restorer
Vistal Hard Surface Cleaner
How to clean upvc window sills
To ensure your white uPVC windows maintain a clean and fresh look, all that's required is an occasional wipe down with warm soapy water.
To keep your uPVC windows sill looking their best:
Dip a soft cloth or sponge in a bucket of warm soapy water and wipe down the dirty frame.
Use a clean, dry and non-abrasive cloth to dry the frame and remove any excess water.
Never use scouring pads or cream cleaners as they are abrasive and can remove the uPVC's shiny finish.
Things you MUST avoid when cleaning uPVC windows
To prevent causing irreparable damage to your uPVC windows – such as the removal of their glossy appearance or discolouration – it's important to only use items that are suitable for the task. This is particularly the case with liquids, sprays and chemicals.
Things to avoid when cleaning uPVC windows, frames and sills:
Applying too much pressure when cleaning the uPVC
Bleach
Cif and Jif-type cream cleaners – they're slightly abrasive
Methylated spirits
Nail varnish remover
WD40
White spirits
Wire wool or iron wool
Scouring pads