How much do orangeries cost? Are they good value?
18th March 2020
If you're considering adding an orangery to your home, you're probably desperate to enjoy some extra living space for you and your family.
Building an extension (of some sort) can often provide the perfect answer to your problems - giving you plenty of additional room without the hassle of moving house.
Although orangeries are proven to add value - and a wow factor - to any property, it's only natural to have lots of questions about the design and installation process.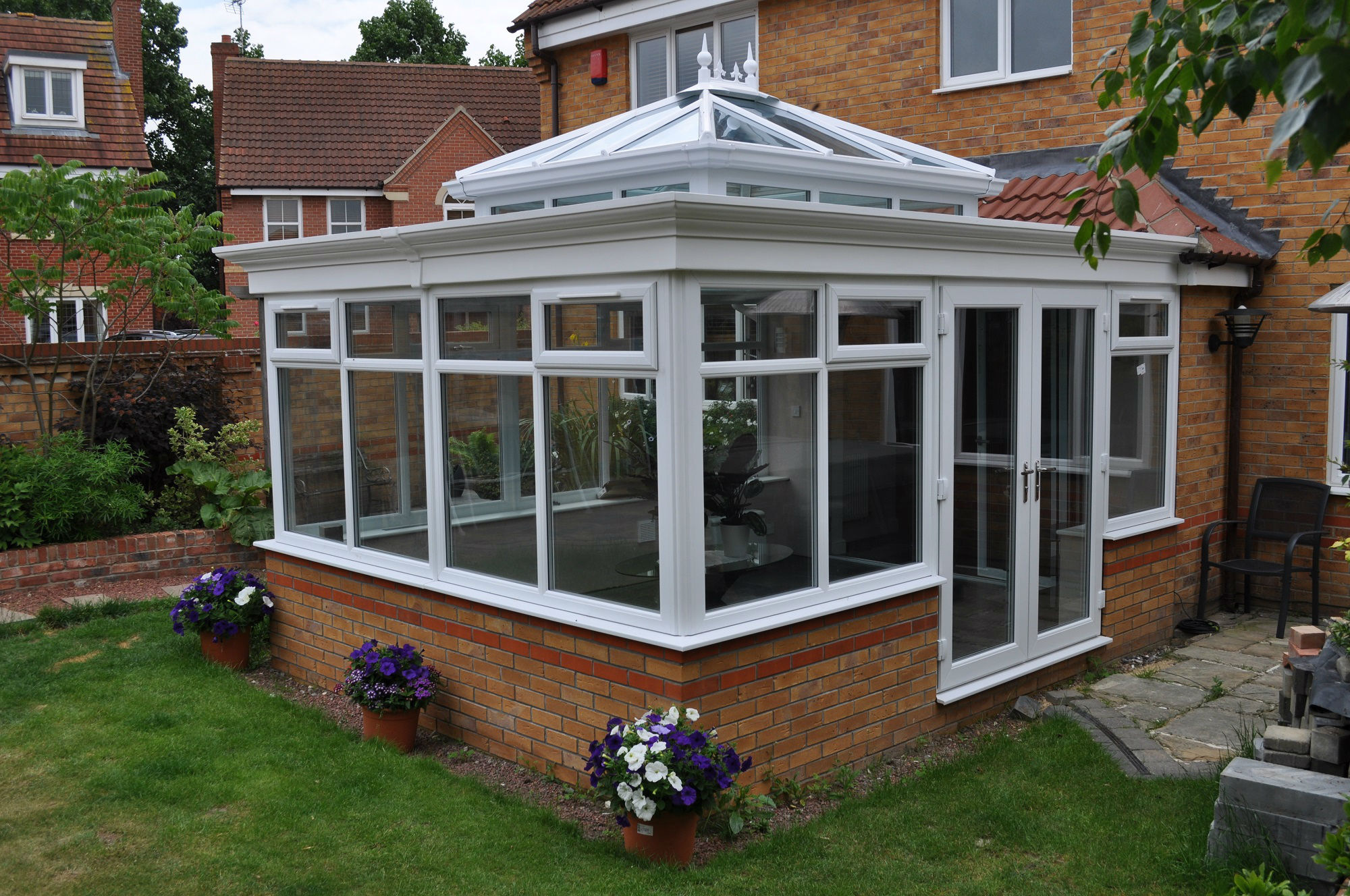 An orangery is a halfway house between a conservatory and a bricks & mortar extension, taking the best aspects of each and combining them into a warm and light-filled room that can be used all year round.
Whilst they are more expensive than a conservatory (on a like for like basis), orangeries are still a very affordable way to create a multi-functional living space.
In 2020, the average orangery costs upwards of £18,000 - based on a budget of £2,000 per sqm (subject to design), but they can be cheaper depending on the size, style and features you want.
Even though the average orangery cost is more than that paid for an average conservatory, the fact it's built out of brick and has a more substantial roof means they're much more energy efficient - and provide homeowners with more functionality.
When weighing up whether to get an orangery extension, there are three main things people ultimately want to know:
How much will an orangery cost?
What does the project entail?
Will it be worth it?
Hopefully, this article will explore all the different factors which can influence the price you pay (and explain why) – allowing you to make an informed investment decision.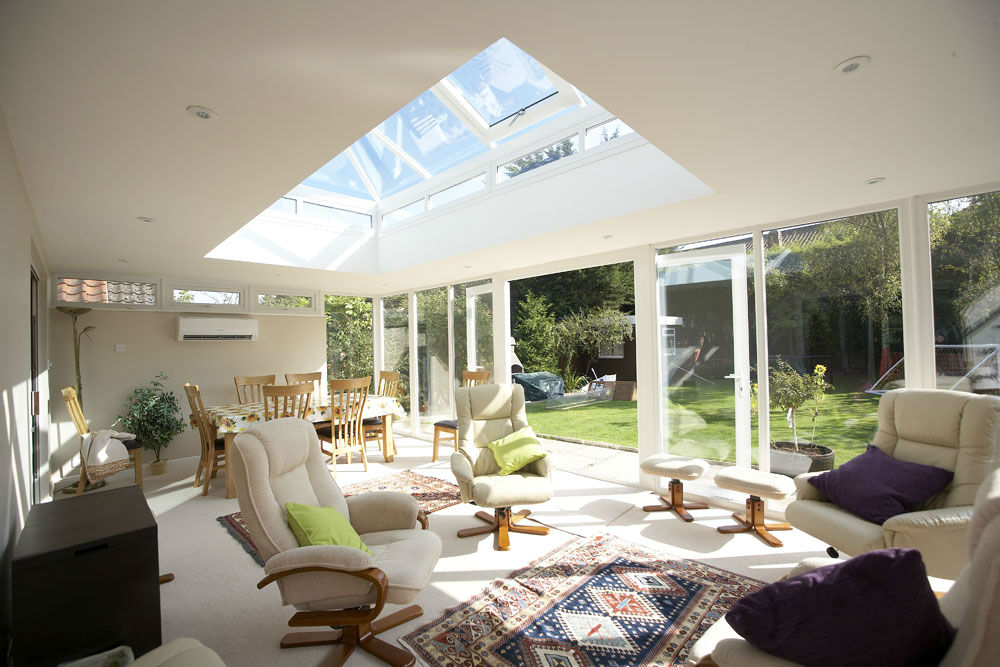 How the features you choose influence your orangery cost
Orangeries are usually constructed from bricks and mortar, featuring full-height brick pillars and a partially solid roof with a glass lantern in their design.
Boasting much more substantial foundations and larger proportions than a conservatory, the expense of carrying out this additional construction work usually equates to around 50 per cent of the overall cost.
Before settling on a design style, it's a good idea to compile a list of must-have features that you want in the orangery.
When you come to cost the project, you may be able to leave some of these out to save money or add interior design features in at a later date. However, the lantern roof and basic structure are two features that should never be sacrificed to cut back on costs.
Before embarking on your orangery project, it's worth remembering that a design which is unsympathetic or out of keeping with your property's existing appearance could have a negative impact on the market value of your home.
Reputable orangery specialists usually have a detailed understanding of architecture. If required, they should be able to guide you and help to design a living space that blends the new build seamlessly into your existing home.
The following factors will all influence how much your orangery costs:
Size: Definitely the single biggest factor when thinking about how much an orangery costs. The bigger the space, the more labour and materials that are needed and the more it costs.
Design: Opting for a contemporary or traditional design will have cost implications because there are different prices associated with each one.
Window frame material & style: Most homeowners choose uPVC or aluminium, instead of wood. Whether you opt for a classic or modern design may dictate what materials you use.
Walls: The location of the orangery may dictate whether you need fully glazed walls, dwarf walls or full height brick wall. As a rule of thumb, the more glazing you have (and the less bricks) the lower the costs will be.
Roof: Depending on your requirements, the type of roof style or roof lantern you choose will have a significant impact on the overall orangery cost – and the future thermal efficiency of the room.
Roof vents: To regulate the inside heat, there should be numerous vents installed to ensure the space remain usable even on the hottest days.
Floor insulation: Whilst additional insulation puts up costs, you'll reap the rewards in the long run because it will result in a noticeable change in temperature during colder months.
Foundations: Digging down to create a suitable concrete slab for the floor takes time, effort and man hours – and that means increased labour costs.
Basic essentials: Heating, plumbing and electrics are obviously essential – the more materials you need, the more you'll pay due to the increased costs of materials and labour.
Exterior work: You may not need to budget for landscaping, but remember that the garden may need to be made good, such as any paving or lawn area.
Factor in all the extra little details
Paying close attention to the little finishing touches will affect the overall appearance of your orangery extension, making it feel unique and special.
Bigger orangery companies (like EYG) can usually offer a much more extensive range of additional extras.
The windows, hinges, handles and doors you choose are all make-or-break factors in the overall design scheme.
Aluminium bi-folding doors can link your orangery and outside space seamlessly, but they're not something that can be added easily during the build or after completion.
Be creative at the planning stage and speak to a knowledgeable designer with experience of turning a blank canvas into an amazing space.
Tell them exactly what you want the new room to achieve and work closely to come up with a final design that fulfils your needs – and budget.
Other things to consider including in your design are:
Internal light fittings, spotlights and uplighters
Decorative columns
External cornice to hide the guttering
Electrical sockets and fitting
Internal pelmets
Window openings
Ventilation
Insulation
Plastering
You'll usually need planning permission to build an orangery and this should also be factored into the price. Discuss with your installer whether you expect them or you to be responsible for obtaining this so that there is no confusion or hidden costs.
Timing is another factor that's worth considering because you may not want your home to have a construction site on it during wet and cold winter months.

What else is included in the cost of your orangery?
Cost of labour – usually a large chunk of the overall price.
Trench footings and foundations – essential and not always included in supply only prices.
Lighting and electrics – You may need to pay extra for luxury fittings.
Heating – Will you opt for radiators or underfloor heating to heat the room?
Planning permission & building regulations – Work out who will take care of this (you or the installer) beforehand.
Making good – Your garden and outside area will need tidying up.
Guarantees – At EYG we provide a ten-year warranty on all orangeries.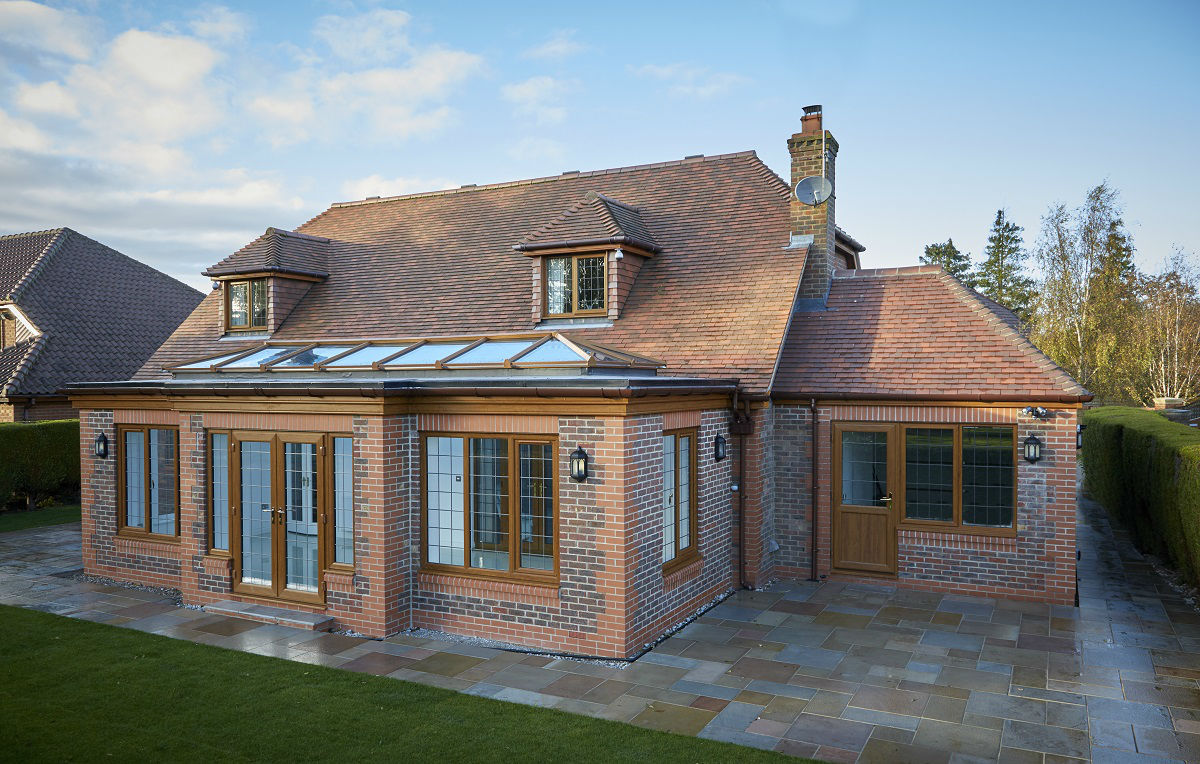 Setting a budget: How much would an average size orangery cost?
As outlined in detail above, the cost of building an orangery depends greatly on the size, design complexity, roof style, interior features and materials you choose.
They are usually more expensive than a conservatory of the same size because they have brick walls built on proper foundations, with a flat roof topped off using a roof lantern – in a similar way to a 'solid' home extension.
As a rough estimation (and based on 2020 costs), you should budget for between £2,500 and £2,000 per square metre for your orangery costs.
For an average orangery measuring 4.5m x 3.5m (16m2), the total cost would be somewhere between £30,000 and £35,000.
This is a fully finished price, including the cost of internal electrics, lighting, plastering and returning the outside of your home to its original state.
According to Real Homes magazine, a 'solid' home extension costs anywhere from £1,500 to £3,000 per square metre depending on where you live in the UK – substantially more than an orangery.
So, how much value does an orangery add?
When you consider that orangeries can increase the value of your property by almost as much as adding a traditional extension, the true value of an orangery really does become apparent.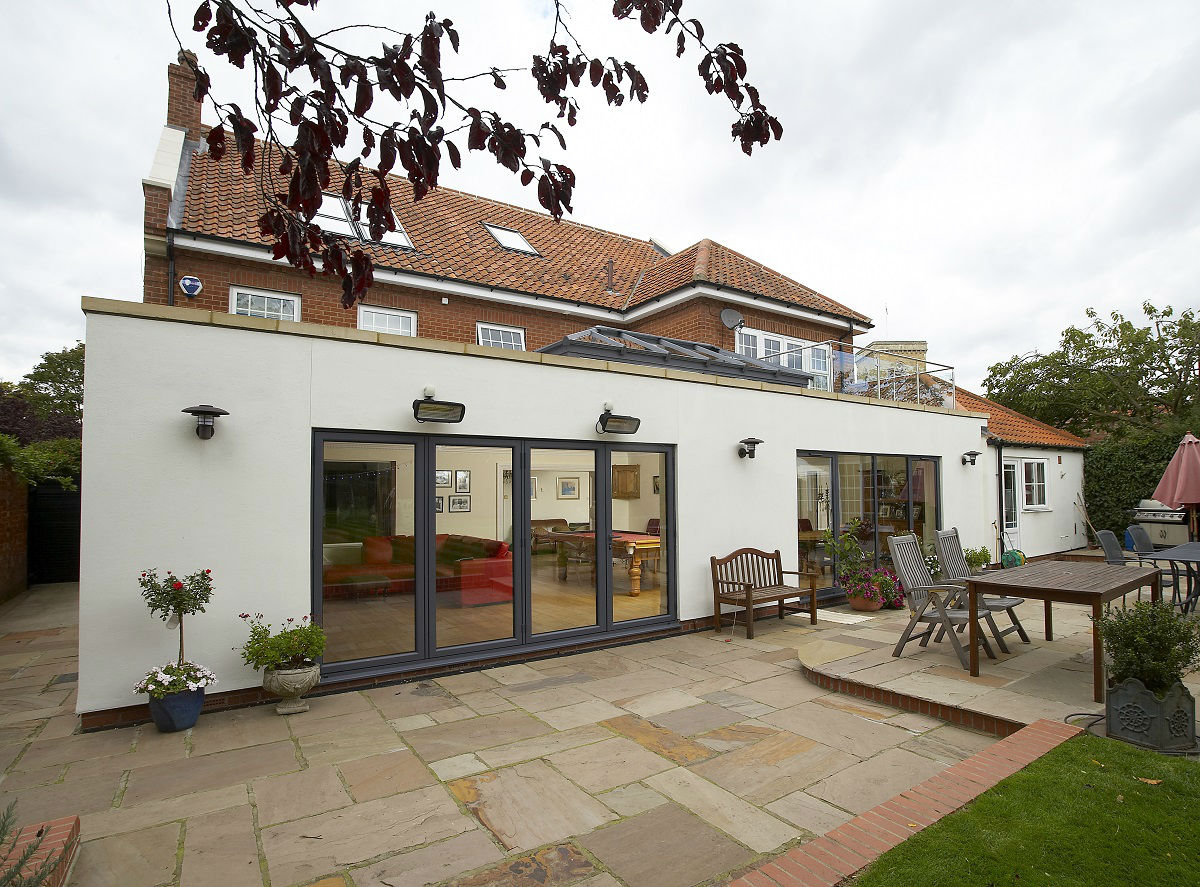 Consider all your available options before making a decision
Whenever you decide to make major home improvements like adding a conservatory or an orangery, it's a good idea to get at least three quotes from independent installers. If you don't, you could end up paying more than you need to.
Always get them to visit your home and discuss your exact requirements so that you can compare quotes on a like-for-like basis.
Before making a decision either way, it's important to remember that price is only one element to consider.
It also makes sense to think about whether the company are reputable or if there's any chance of them going out of business. It's often a good idea to ask to see examples of their previous work and find out whether they offer any form of guarantee or finance.
At EYG, we offer a ten-year warranty on all our orangeries – so your investment comes with complete peace of mind.
We also have a range of flexible funding, allowing your new orangery to be designed and installed without paying a deposit. You can then choose whether to fund the project yourself or take advantage of our buy now, pay nothing for 12 months option.
As is always the case with any building work, it pays to research ALL your options carefully. Once you have, you can make a decision that's best suited to your budget and your personal circumstances.
If you'd like us to conduct an initial free on-site assessment, where you can discuss your requirements and ask anything you want to know before beginning the design process, please get in touch or call 0800 181 888 today.