How much do bifold doors cost?
12th January 2020
Bifold doors are undoubtedly one of the UK's most popular home improvements right now.
And why not?
Most style-conscious homeowners would love to blur the lines between their outdoor and indoor living space to enjoy one stunning seamless entertaining area.
In our experience, demand has definitely been fuelled by the fact bifold door prices have become much more affordable in recent years.
When you consider they're usually a must-have design feature on almost every episode of Grand Designs (other makeover programmes are available!), it's clear to see why our bi-folds love affair continues to grow.
Luckily, you don't have to live somewhere grand to enjoy them - or their benefits!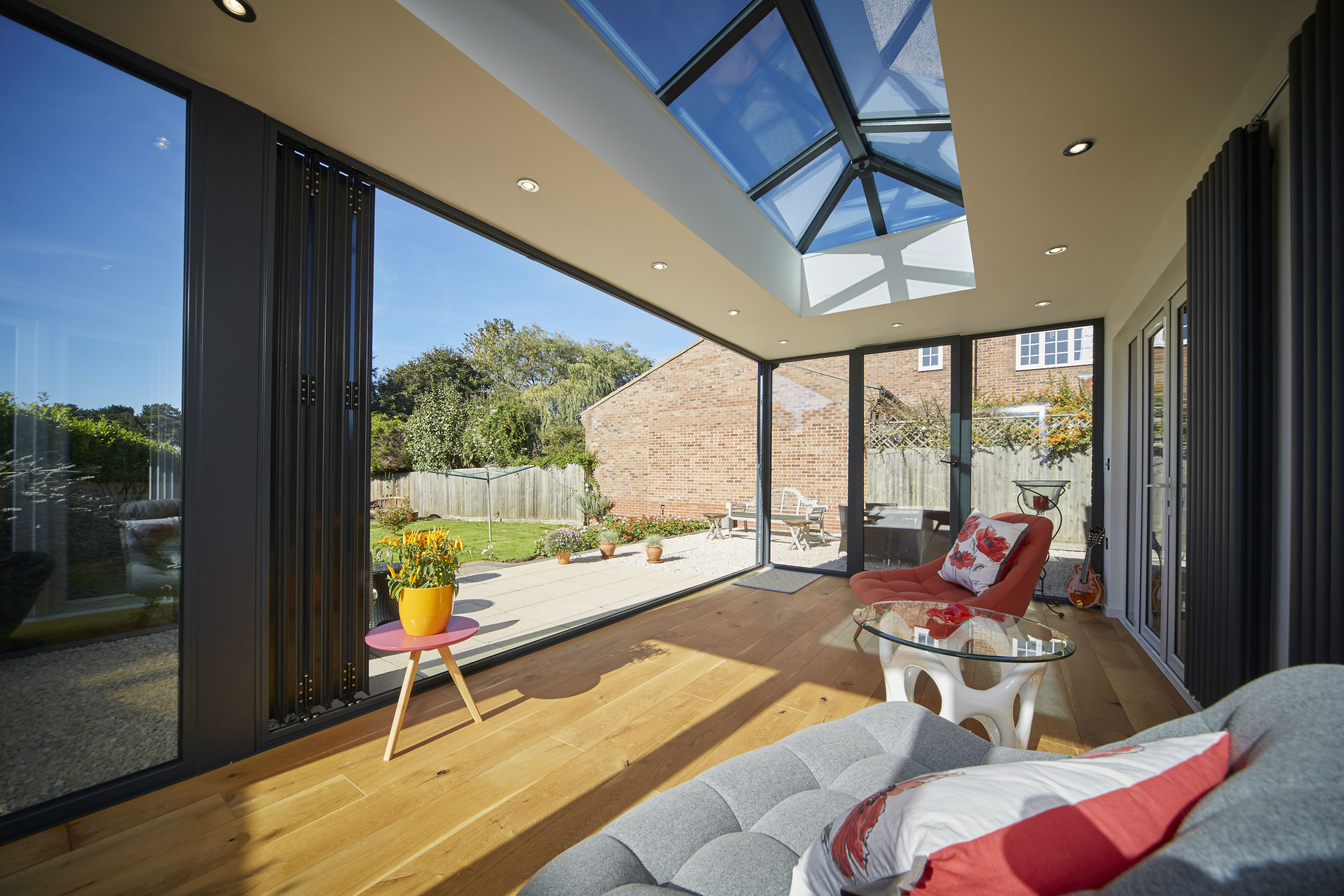 How much are exterior aluminium bifold doors?
Basically, the price depends on how many glazed panes you require and the type of finish you want to achieve. The more elaborate your project, the more you'll pay.
The cost of our most popular aluminium bifold door sizes are listed below, based on our 2020 pricing structure.
EYG's aluminium bifold door prices for 2020*

Dimensions
Number of panes
Price
Installed
10-year warranty
2.7m
3
from £2,750
No
No
2.7m
3
from £2,900
Yes
Yes
4.7m
5
from £4,600
No
No
4.7m
5
from £4,800
Yes
Yes
5.4m
6
from £5,500
No
No
5.4m
6
from £5,800
Yes
Yes
6.1m
7
from £6,500
No
No
6.1m
7
from £6,800
Yes
Yes
*Prices are for guide purposes only and are subject to change - depending on final design, number of panes, colour and any other finishing touches. Prices do not include VAT
EYG can design and manufacture bifold doors made to measure – call 0800 181888 to discuss your requirements.

Top 10 benefits of bifold doors
Contemporary living – merge your home and garden space
Brighter interior –flood heart of your home with natural light
Magnificent entrance – bigger, better, brighter views
Sleek and modern – Slimline frames improve sense of space
Multiple configurations – open left or right, inwards or outwards
Add value to your home – improve saleability & lifestyle
Tailored to you – choose from 200+ colours & finishes
Strong & durable – Look good & stay secure for years
Low maintenance – wipe regularly for optimum performance
Simple to use – glide open and closed with ease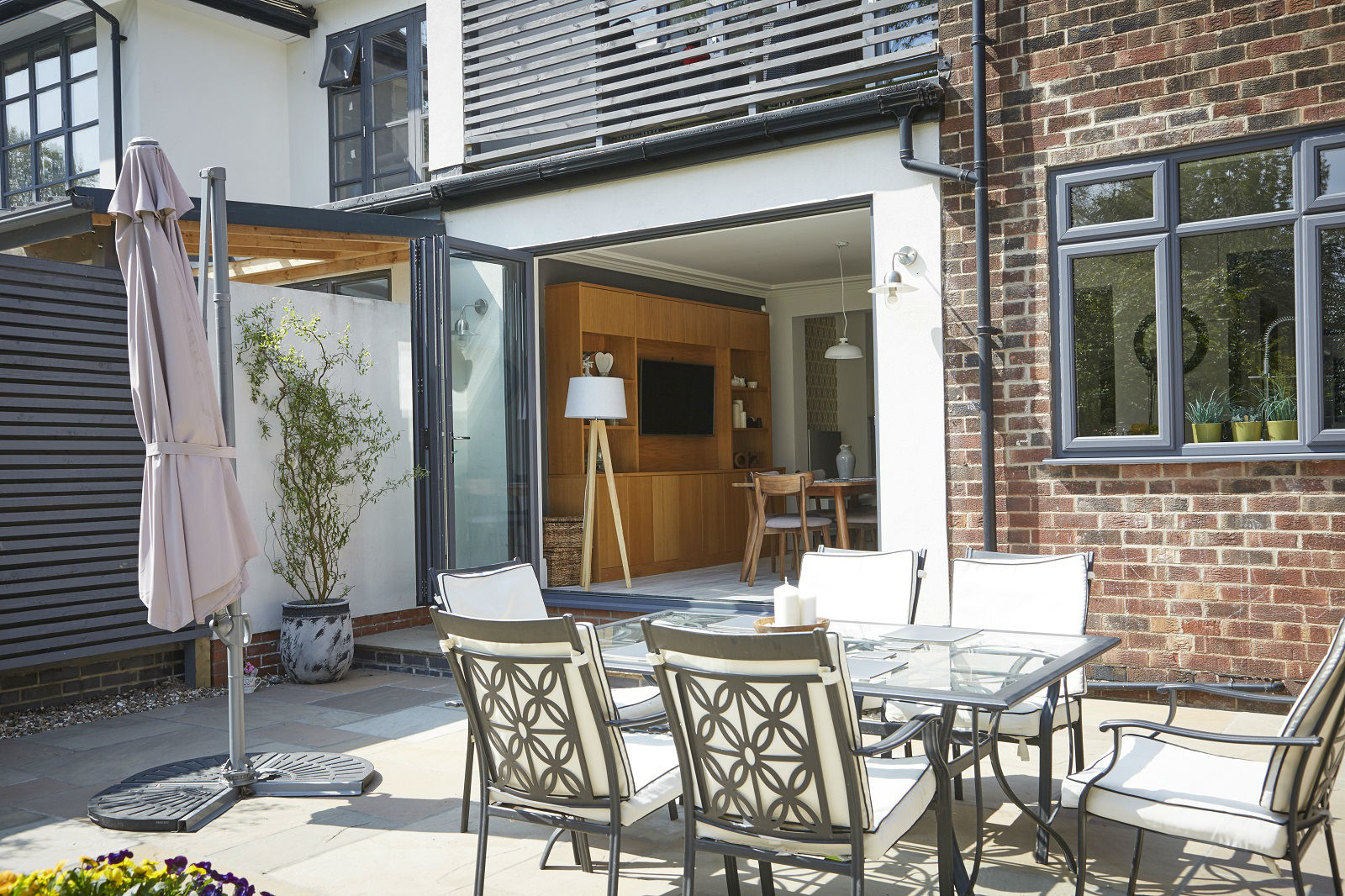 How much do bifold doors cost to install?
When drawing up your budget, we would advise factoring in at least £650 for installation fees as a general rule of thumb.
This is a guide price based upon a 'standard' installation where there are no access issues or complicated structural load concerns.
For bifold doors which measure 4.7m or more, it's wise to factor in slightly more (somewhere in the region of £900) as they are often more complex to install.
If you obtain a free no-obligation quote from EYG, the exact installation fee is itemised in your price – and includes an initial survey as well as any trims, hinges, handles and door furniture required.

What aluminium bi-fold door configurations are available?
Basically, you can customise exterior bi-fold doors to suit your home and style.
Anything from 3 to 8 panes is possible – opening either inwards or outwards.
Static panels can also be included within that configuration (on the left or right).
This flexibility ensures the main opening is positioned exactly where you want it.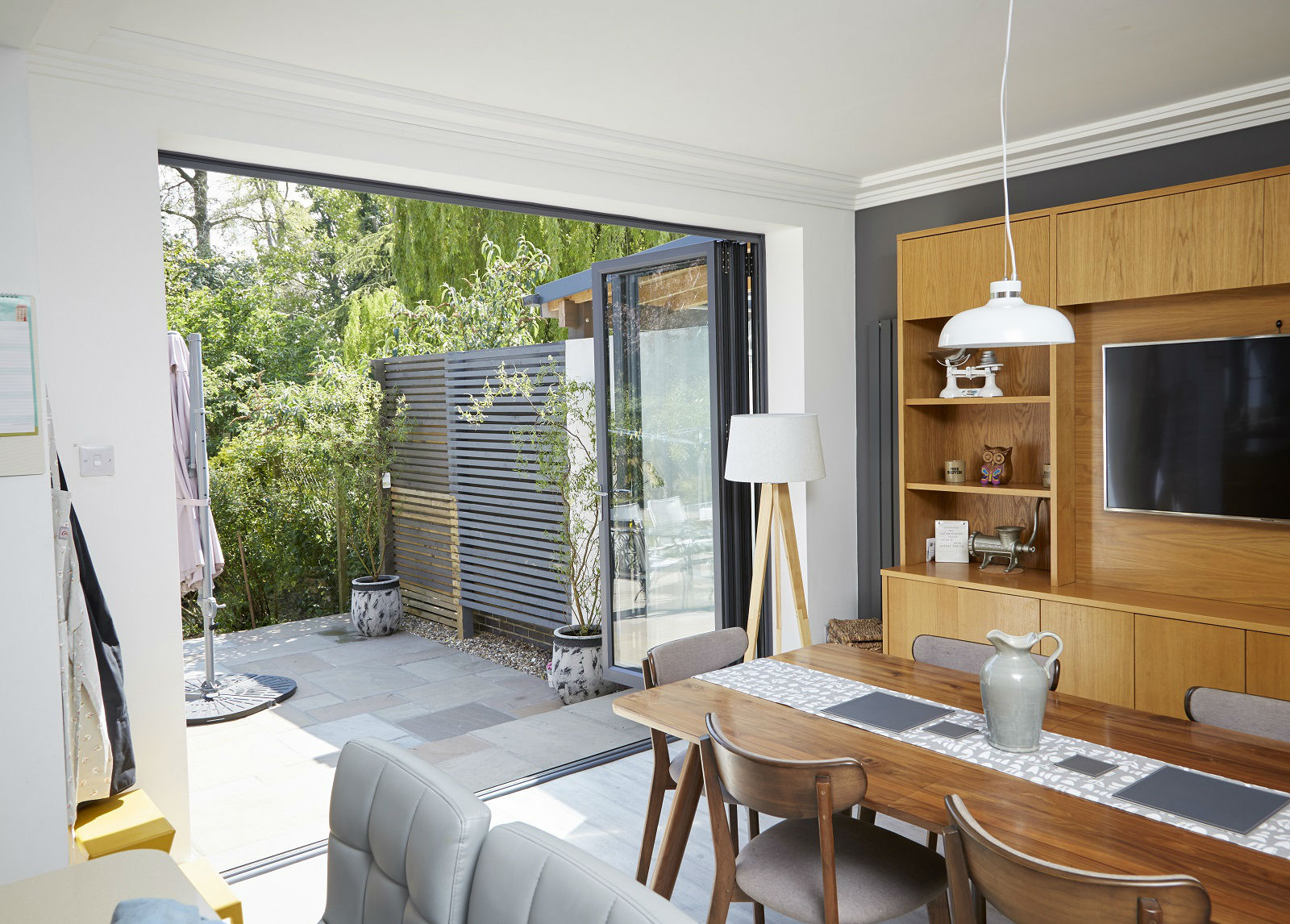 Do bi-fold doors need Planning Permission?
In most cases, the installation of exterior bifold doors can be done WITHOUT planning permission.
The reason for this is because bi-fold doors are NOT considered to be a major alteration to your home.
Obviously, different rules will apply if you live in a conservation area or listed building.
For free advice about planning permission, get in touch or call 0800 181888 to discuss your project.