EYG's new 'EcoHeritage' windows range exceeds industry performance standards and offers sleek and contemporary style
26th November 2020
EYG are delighted to launch our new 'EcoHeritage' brand of windows – bringing customers the very best security, heat retention and weather performance in a sleek and contemporary style.
The new generation of A-rated windows offers our customers a truly market leading product which has been developed and tested not to meet industry standards, but exceed them.
Domestic Sales Director John Waugh says he is delighted to be launching the new product ahead of the cold winter months, and says the product 'meets all the essential requirements of homeowners'.
"At EYG we have always taken great pride in being a company that continually invests into the latest product developments and innovations, as we want to be able to offer our customers the leading products on the market," said Mr Waugh.
"Our new uPVC EcoHeritage windows range are just that as they excel in terms of security, heat retention, and weather performance. These are always the three main factors customers consider when replacing windows in their homes."
Innovative product design and development has seen the windows manufactured with 'Super Spacer' technology, as six chambers are contained within the frame to ensure efficiency performance not only meets Building Regulations, but exceeds them by up to 35%, with heat loss from homes reduced by 94%.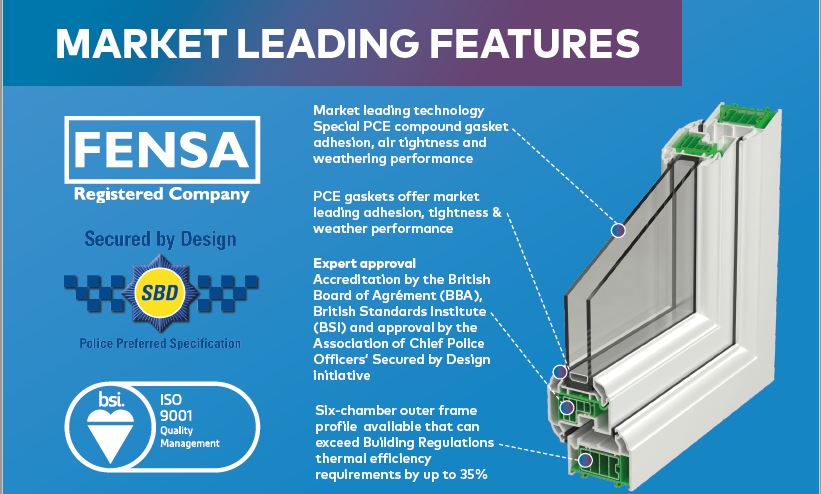 "Importantly this new window system not only performs better than others in the market in terms of heat retention because it has more internal spacing chambers than others, but it also looks better.
"Our windows are slimmer than standard profile systems and therefore has a sleek, contemporary look which actually gives homeowners a larger area of glass overall and therefore brighter interiors and better views."
Windows available in extensive range of colours and styles
EYG EcoHeritage windows are available now in an extensive range of colours and styles, including casement, sash, tilt and turn, and bay windows.
They are manufactured in EYG's own 65,000 sq ft UK production facility in Hull, East Yorkshire, where every aspect is rigorously tested for all aspects of performance.
The windows are also unique in that exterior colours are retained throughout the frame, meaning the interiors which are on view when windows are opened are the same colour, rather than being white as is commonplace.
"Most window companies don't offer this option for uPVC windows and to get that quality of finish people need to upgrade to the more expensive option of aluminium windows," added Mr Waugh.
"Many customers have said to us that they don't like to see the white window interiors when they have, for example, grey uPVC windows. It is all about that little extra detail, especially on such an important home improvement purchase."
EYG EcoHeritage windows are accredited by the British Board of Agrément (BBA), the British Standards Institute (BSI) and have approval by the Association of Chief Police Officers' Secured by Design initiative, reflecting they meet Home Office standards for security.