EYG make headline news on BBC's Look North as we take on former Bridgewood UK staff
10th January 2022
Look North, Hull Live and Radio Humberside all reported EYG's exclusive story last week of the Bridgewood factory workers who found new jobs with us after their work place tragically burnt down at the end of last year.
We broke the story of their harrowing recollections of that fateful day, when 300 tonnes of plastic at their Hessle factory went up into flames, sending thick plumes of black smoke drifting right across Hull and surrounding villages.
There were 120 workers who lost their jobs that day, and four of them have since found work with EYG, at their UPVC and aluminium factories in Wiltshire Road, Hull.
Norman, Callum, Ben and Michael joined EYG from Bridgewood UK, and spoke to us about the loss of their livelihoods, and how they're happily settled into their new roles.
"It was unexpected to get such widespread coverage"
The story was shared on our social media, and immediately picked up by local media outlets, including the BBC news channel, who sent reporter Leanne Brown and a camera crew to film in our factories.
Sales Director John Waugh was also interviewed, and told Leanne how the factory was due to expand its workforce in the coming weeks and months, and they took the decision to bring those expansion plans forward to accommodate the workers.
Hull Live also shared the story as their top news, and Radio Humberside conducted a phone interview with Norman – completing a hectic day of media calls.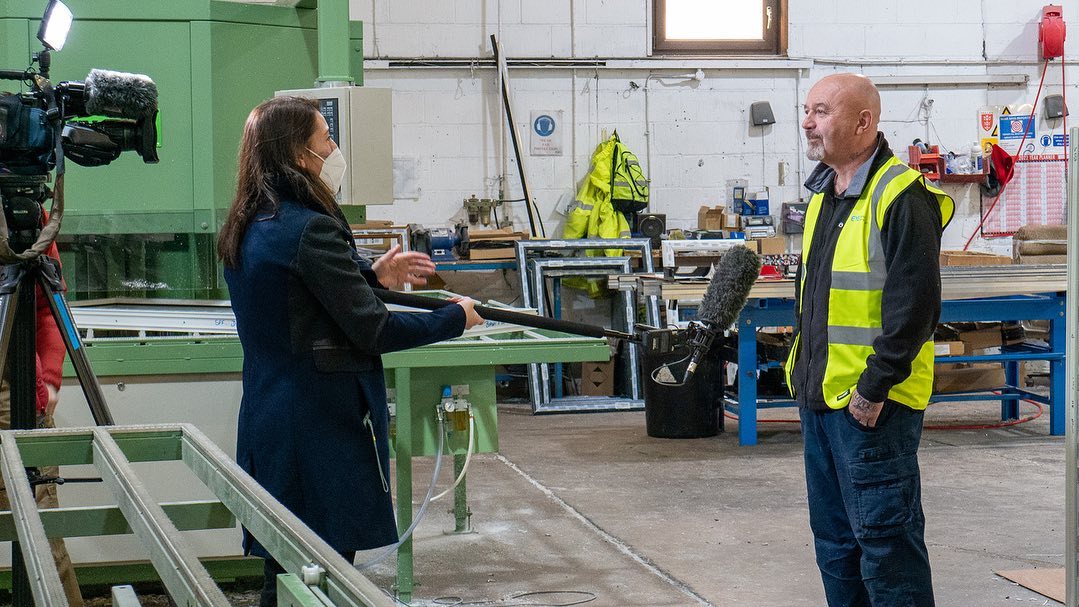 John later said: "It was unexpected to get such widespread media coverage as we just shared the news with our customers on our website and social media channels. But it was lovely to get such great feedback from our suppliers, contacts and even customers we have visited since, who have commented on seeing us in the news.
"The guys are doing really well and it's been nice to be able to support them.
"We are really excited about 2022, we have already launched a new UPVC door range, the Kingston range, we have a huge January sale on for all of our home improvement products, and we continue to grow.
"Last year was a very busy year. With Covid, we saw orders going through the roof as people wanted to spend their spare money on improving their homes as they couldn't go away on holiday, and we also celebrated our 50th year in business. But 2022 is off to a great start, and having the media coverage was really nice recognition of how, as a business, we are thriving."