EYG launch aluminium bifold windows for lifestyle-conscious UK home owners
26th October 2023
Aluminium bifold windows are a recent concept in window design which is really taking off in homes and businesses across the UK.
House builders and architects are now increasingly using this window style in their domestic and commercial new projects – recognising how it offers practicality with durability and aesthetic appeal.
The windows fold fully to one side, creating a large opening which allows the inside and outside to connect more seamlessly.
Are bifold windows worth it?
Aluminium bifold windows have a multi-panel design, typically consisting of two or more hinged panels that fold and slide along a track when opened.
One of their main benefits is the flexibility they offer. In the fully folded back position they create one large space which is perfect for home owners who dine outdoors and host barbecues – allowing food and drink to be passed easily from inside to out.
In addition, the lack of frames and large expanse of glass create a very modern looking window which suits contemporary and newbuild homes.
The bifold window also creates a lighter, brighter room due to the use of more glass and less need for frames.
Are bifold windows energy efficient?
EYG's bifold windows are manufactured from aluminium, and have excellent U-values of 1.4.
Aluminium is a robust and durable material, making it ideal for windows and doors.
Aluminium windows are resistant to corrosion, rust, and weather-related damage, ensuring longevity and minimal maintenance requirements.
Our bifold windows are also weatherproof tested to British standards.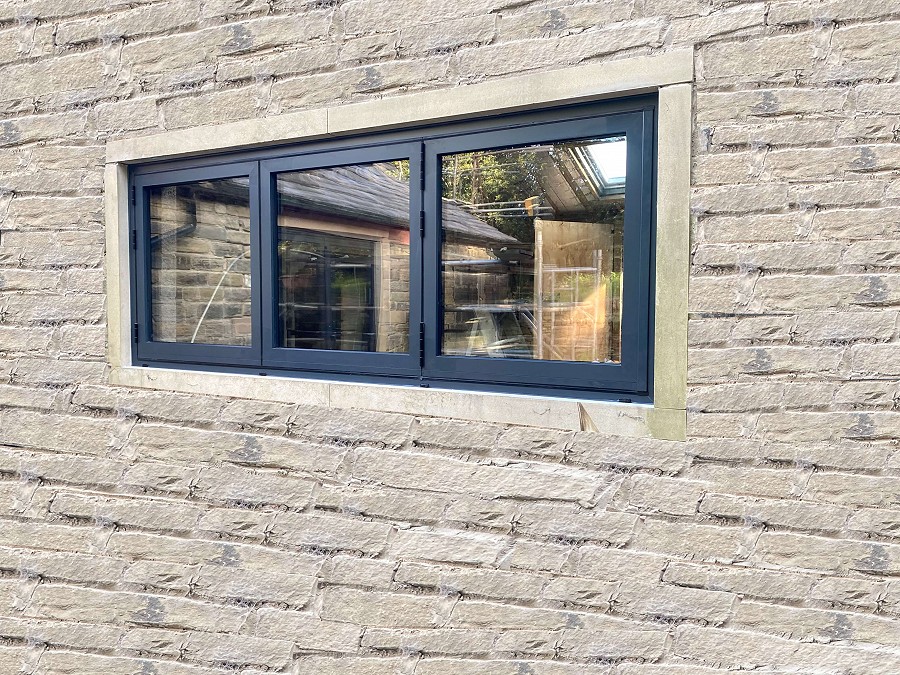 Bifold widows provide excellent natural light and ventilation
With UK summers getting warmer, and temperatures set to soar more in the coming years, bifold windows are a great choice for optimising ventilation in the home.
When fully opened, these windows promote excellent ventilation, allowing fresh air to circulate freely throughout the room.
They also have minimal sightlines, giving them a very contemporary look.
The natural light and ventilation that comes with this window style contributes to energy efficiency by reducing the reliance on costly artificial lighting and air conditioning.
What sizes and colours do bifold windows come in?
EYG's aluminium bifold windows can be customized in terms of size and colour, ensuring customers can tailor their window to their exact requirements.
They can also be different colours inside and out.
How secure are bifold windows?
EYG bifold windows have the following security features:
PAS24: 2022 compliant for security
Glazing thickness up to 44mm
Combined with high-quality locking mechanisms, they provide excellent security for homes and commercial spaces.
Are bifold windows used in homes in the UK?
Aluminium bifold windows are becoming increasingly popular in UK homes and are commonly used in living rooms, kitchens, and dining areas, where home owners want to connect indoor and outdoor spaces.
Akin to a modern 'serving hatch' they make outdoor dining and barbecuing so much easier for passing food and drink.
Some home owners use them in outdoor building and garages as a 'bar hatch' for serving drinks.
Why do we love bifold windows?
At EYG, we believe the market for bifold windows will explode in the coming years as people veer towards this modern style of window in favour of more traditional styles which do not offer the same level of practicality and appeal.
Their ability to transform living spaces, maximize natural light, and provide excellent ventilation will see them becoming a feature of UK homes, just as we have seen with the bifold door, which is now a common feature in properties.
EYG's Sales and Marketing Director John Waugh said: "We are delighted to bring this new offering to our vast window portfolio.
"We always like to keep introducing new products to our customers and this is an exciting addition which we believe is going to be a great feature to any home - not only for security and durability, but to also enhance their lifestyle."
Bifold windows offer the ultimate 'lifestyle' window, combining flexibility and practicality while oozing contemporary style.