EVERYTHING you need to know about modern sliding patio doors
14th August 2019
Whisper it quietly, but patio doors have been given the 21st century makeover treatment.
Gone are the clunky out-of-date horror show your grandparents struggled to open when you were a kid.
Now they're an ultra-modern design feature you'd actually be PROUD to incorporate into your home.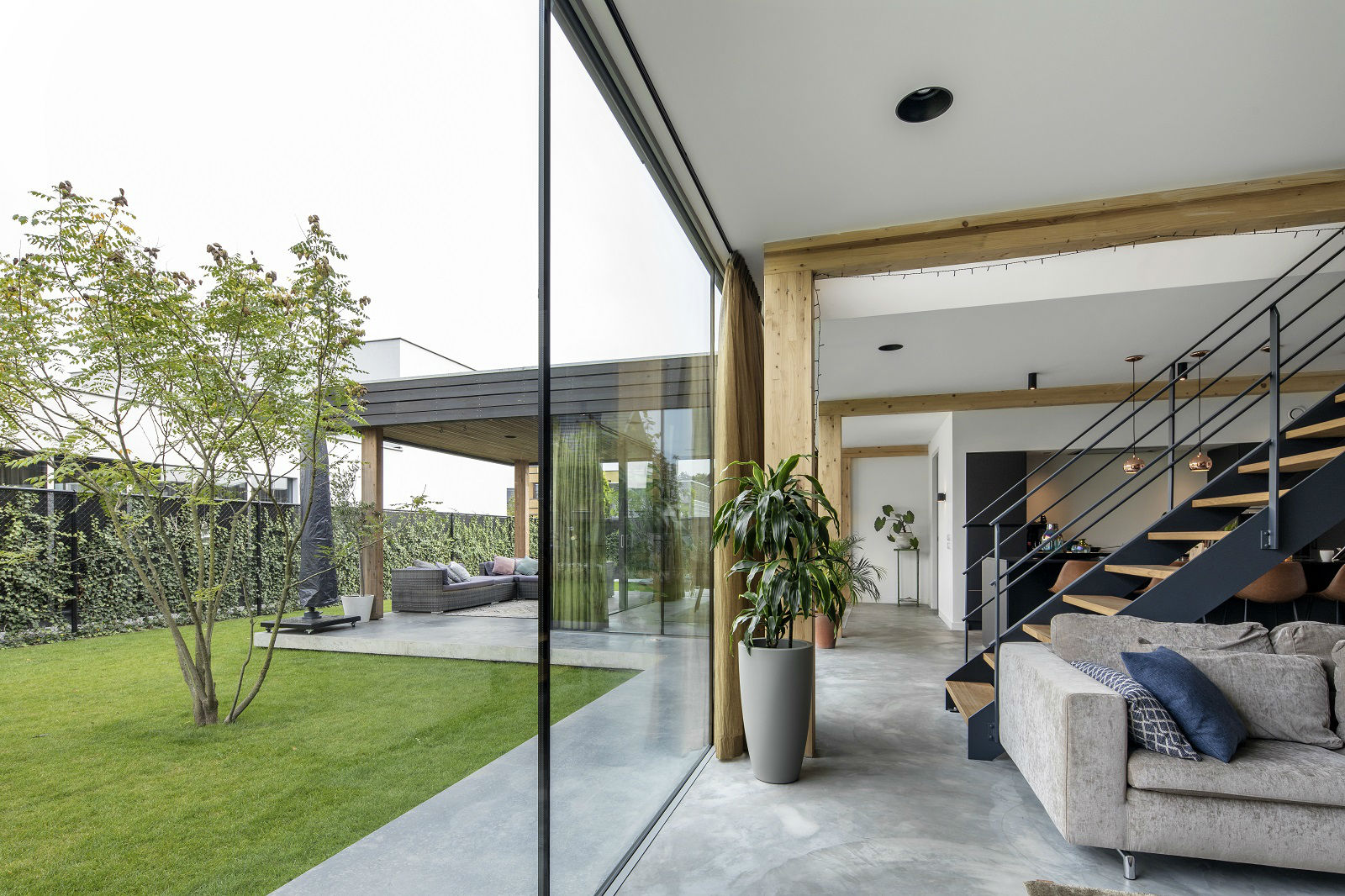 What features do modern sliding patio doors have?
Designed to look ultra-slim and provide you with crisp clean edges, modern patio doors really will enhance any exterior view.
Fully concealed outer-frame
Up to 3.5m in height
As big as 6m in width
23mm ultra-low threshold
21mm sightlines
Multiple panels can open
Double or triple-track opening
38mm to 52mm thickness glass
Double or triple glazing
Floating 'invisible' corner post
Are modern patio doors easy to open?
Modern inline sliding patio doors provide far more flexibility than their predecessors when it comes to opening – which is effortless.
Each door sits on hi-tech rollers and uses a lift-and-slide mechanism on either a double or triple track system.
Thanks to these additional tracks, each door can slide in more than one direction and can be easily operated using just two fingers.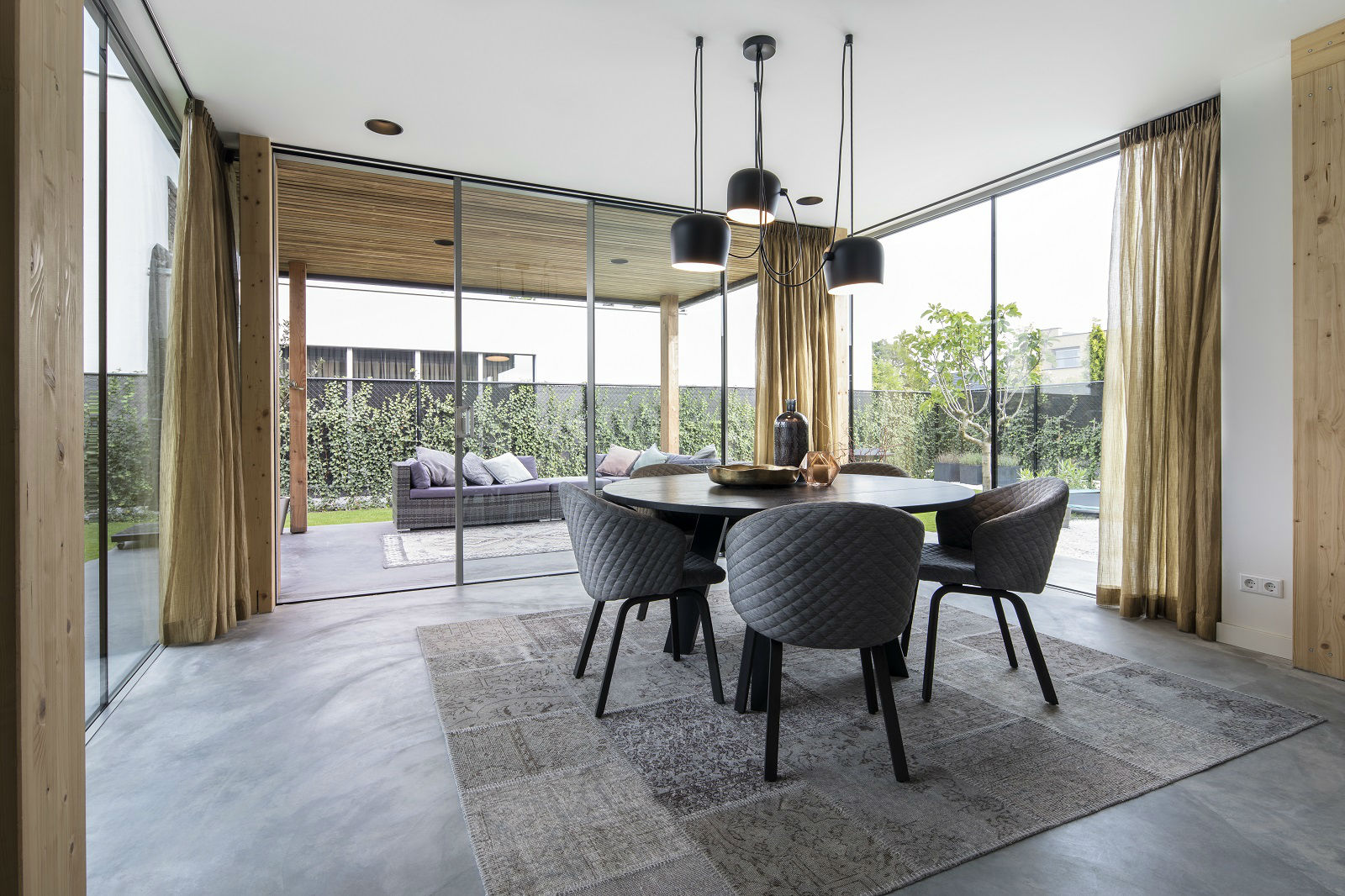 What opening configuration can you have?
With multiple sliding configurations available, you can open your doors in almost any position you wish.
Multi-door openings: For three doors or more, you can stack all of them on the left, right or centrally. You can even leave them stacked separately – whichever way is best suited to you and your home.
Corner-less: For unobscured views and a weightless appearance, use a sliding door on two walls that meet in a corner. Slide the doors away and the corner post will vanish too – revealing an opening which looks amazing.
Hidden away: If you'd like your doors to disappear, modern sliding patio doors can be designed to completely slide into the wall – forming a clear opening with unobstructed views.

How secure are modern patio doors?
All our patio doors are independently tested to ensure they meet the strictest PAS 24 security regulations and they are designed to keep out unwanted intruders.
Most systems are Q-marked accredited and Secured By Design approved – a police-backed initiative which focuses on crime prevention through the use of exceptional design and security standards.
How energy efficient are they?
Manufactured in the UK to the highest possible standards, each multi-configuration modern patio door provides outstanding thermal performance.
With double glazing installed, it's possible to achieve a U-value of up to 1.9 W/m²K for a standard dual-rail system.
They also feature water and acoustic barriers along with high-quality air seals to repel the toughest conditions the British climate can throw at them.
What colours are available?
Most modern glazing solutions are now available in a wide range of shades – and modern sliding patio doors are no different with more than 200 RAL colours to choose from. If you'd prefer a different shade for inside and outside, a dual-colour option is also available.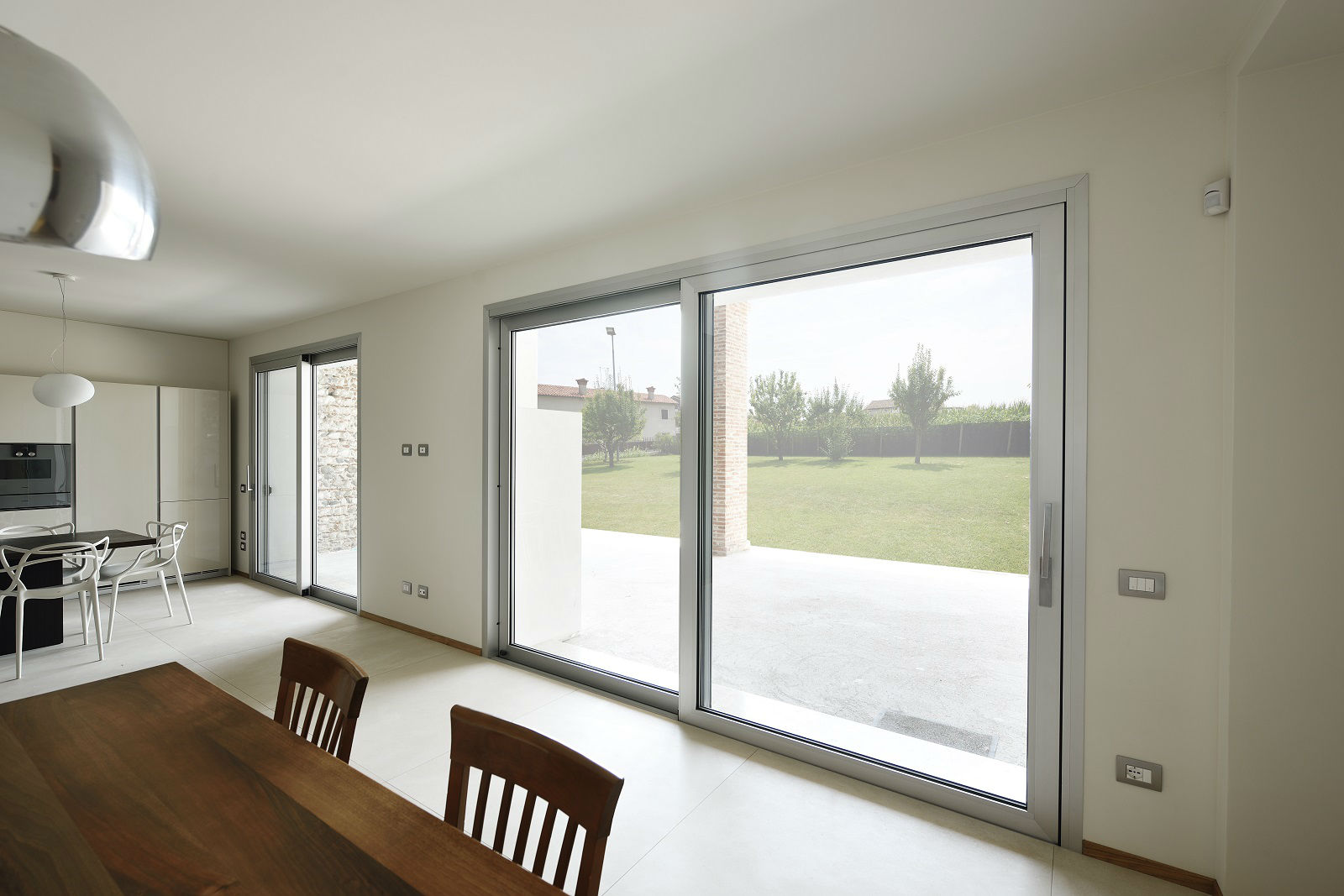 Our modern sliding patio door range
If there's one thing sophisticated homeowners demand, it's choice.
To meet all your different performance and aesthetic demands, we've created our sleekest range of modern sliding patio doors.
Strong and secure, but uncompromising on style.
Whichever system you choose, we'll work closely with you to deliver a bespoke solution to suit your exact needs.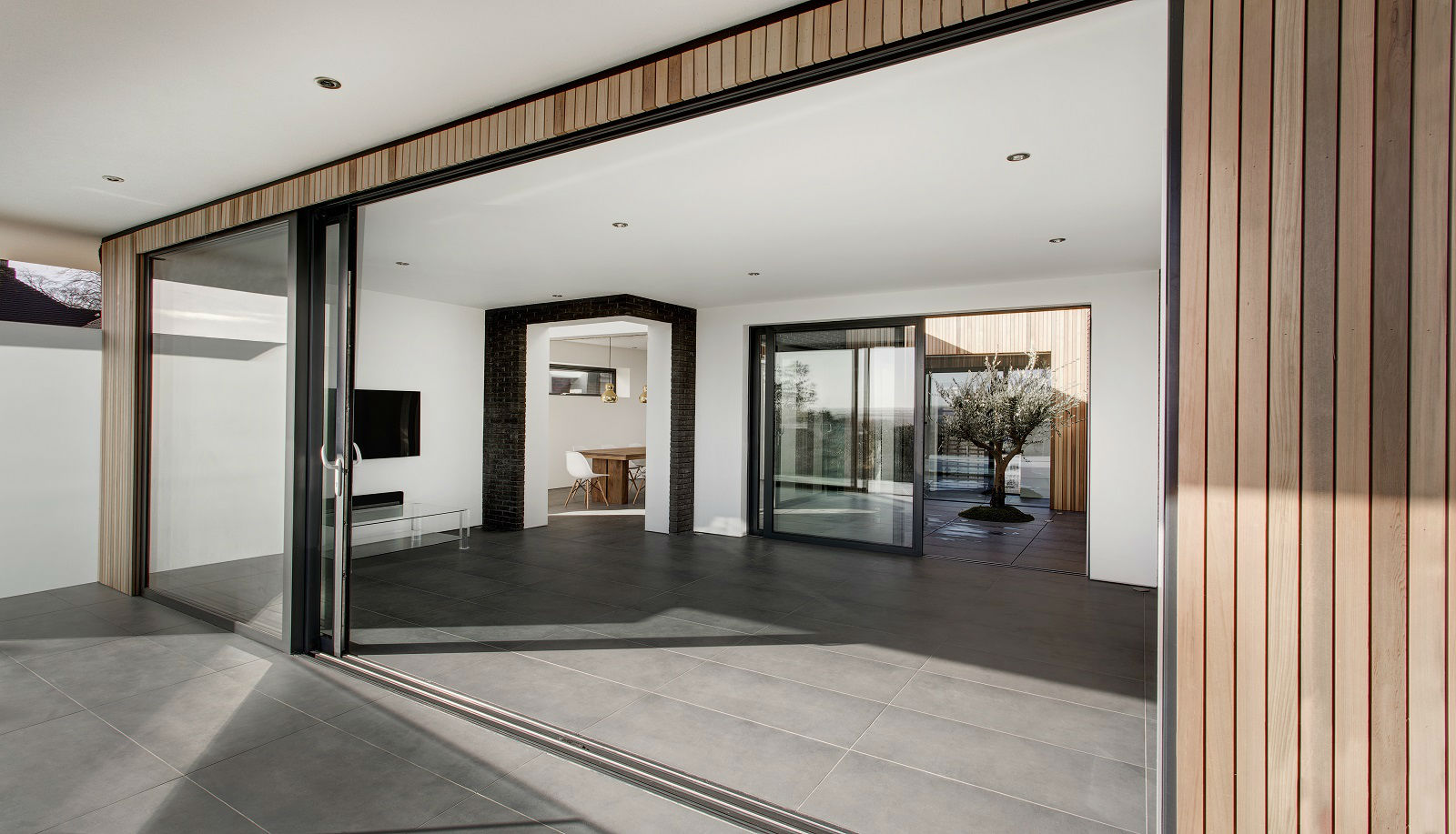 PLUS RANGE
Cost-effective style & everyday practicality
For effortless operation and style, look no further than our Plus-range lift and slide modern patio door (pictured above).
Designed and developed with homeowners in mind, it delivers the aesthetic appeal and build quality you demand - for a price you can afford.
Features:
Lift and slide opening
45mm sightlines
Up to 3m in height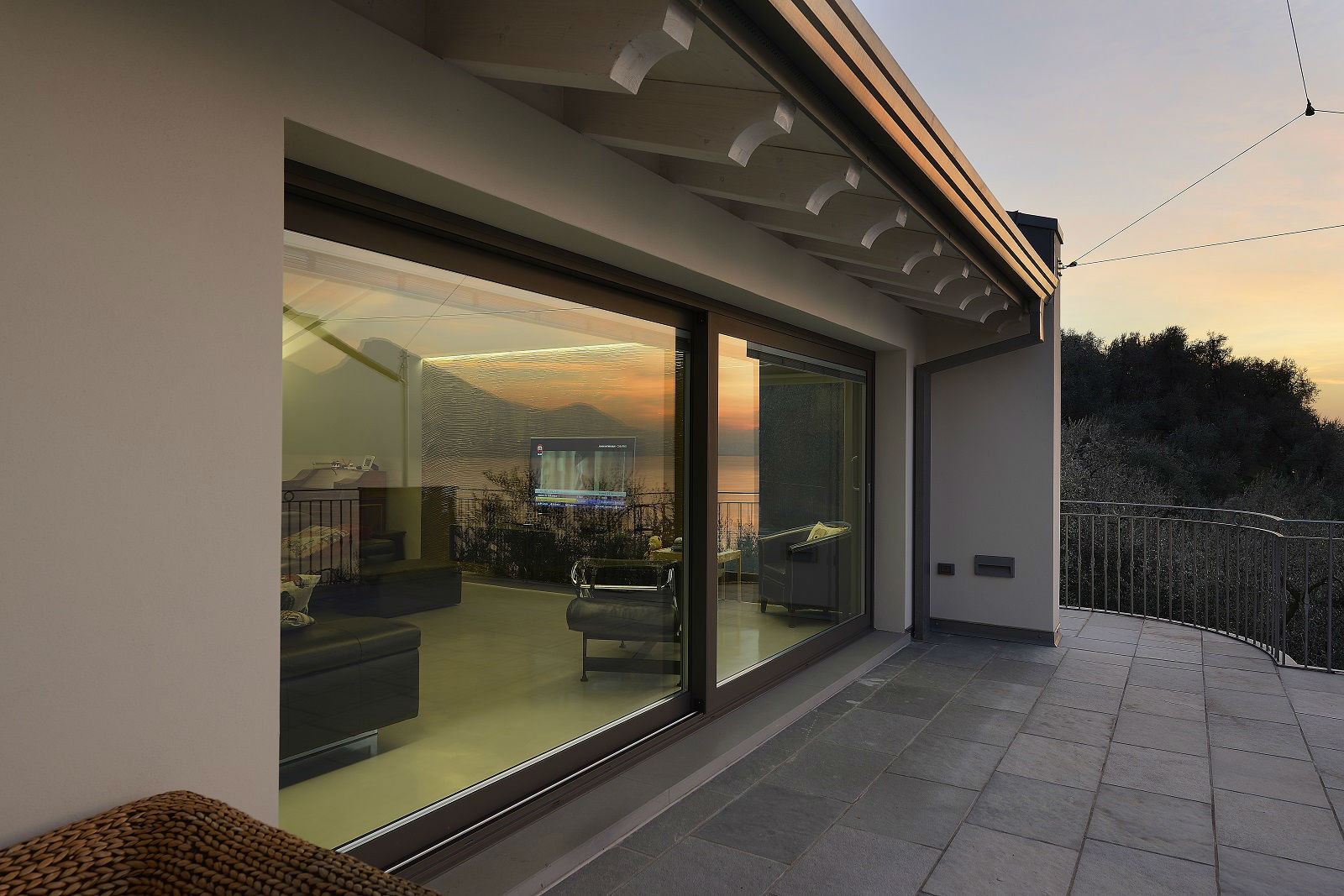 PREMIER RANGE
Outstanding quality & design
Open up your home and add a real touch of class with our Premier-range modern slimline sliding patio door system (pictured above).
Available in several sliding configurations, smooth operation is guaranteed through the use of a single or double-track opening.
Choose from hundreds of colours and use the highest-quality fittings and handles to achieve a luxury finish.
Features:
Lift and slide opening
50mm sightlines
Up to 3.1m in height
23mm threshold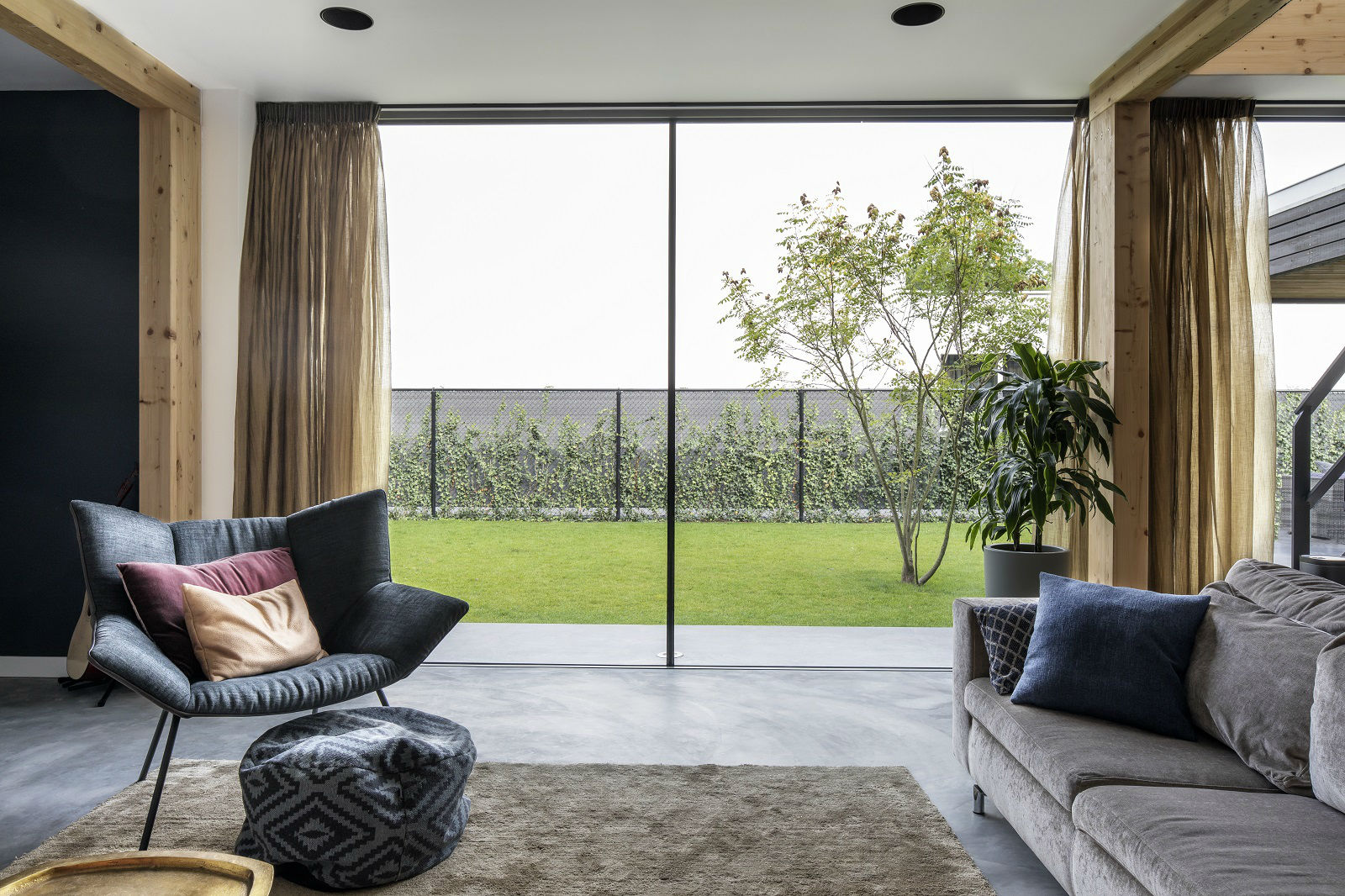 PREMIUM RANGE
Finest finish & maximum control
Enjoy uninterrupted panoramic views without the need to escape – thanks to our Premium-range of Infinium modern sliding patio doors (pictured above).
Seamlessly integrated from floor to ceiling, this stunningly simple design floods your home in natural light.
Roll right back to create one free-flowing space - bringing the indoors and outdoors together. Or effortlessly open up a corner to reveal a fantastic fully-open aperture. Complete control, maximum liberation.
Features:
Fully concealed outer-frame
One or more opening panels
Floating corner post
21mm sightlines
Up to 3.5m in height
23mm threshold
Kick-start your project today!
If you're thinking about installing modern patio doors, weigh up all your options before making your final decision.
Should you need some expert help or advice, please get in touch or call 0800 181 888 – we'll be happy to visit your home and provide a free, no-obligation quote.