EVERYTHING you need to know about conservatories for bungalows
24th May 2018
Bungalows make beautiful homes. But if you're looking to add a little bit of extra space, installing a conservatory on a bungalow can be the ideal way to extend your property.
Surprisingly, there is a misconception that height restrictions limit the number of available conservatory designs for bungalows. This is not strictly true and (as we will show you later) there are plenty of stunning styles to choose from.
If you're trying to find stylish conservatories for bungalows, take a look at some of our best designs and discover all your options now!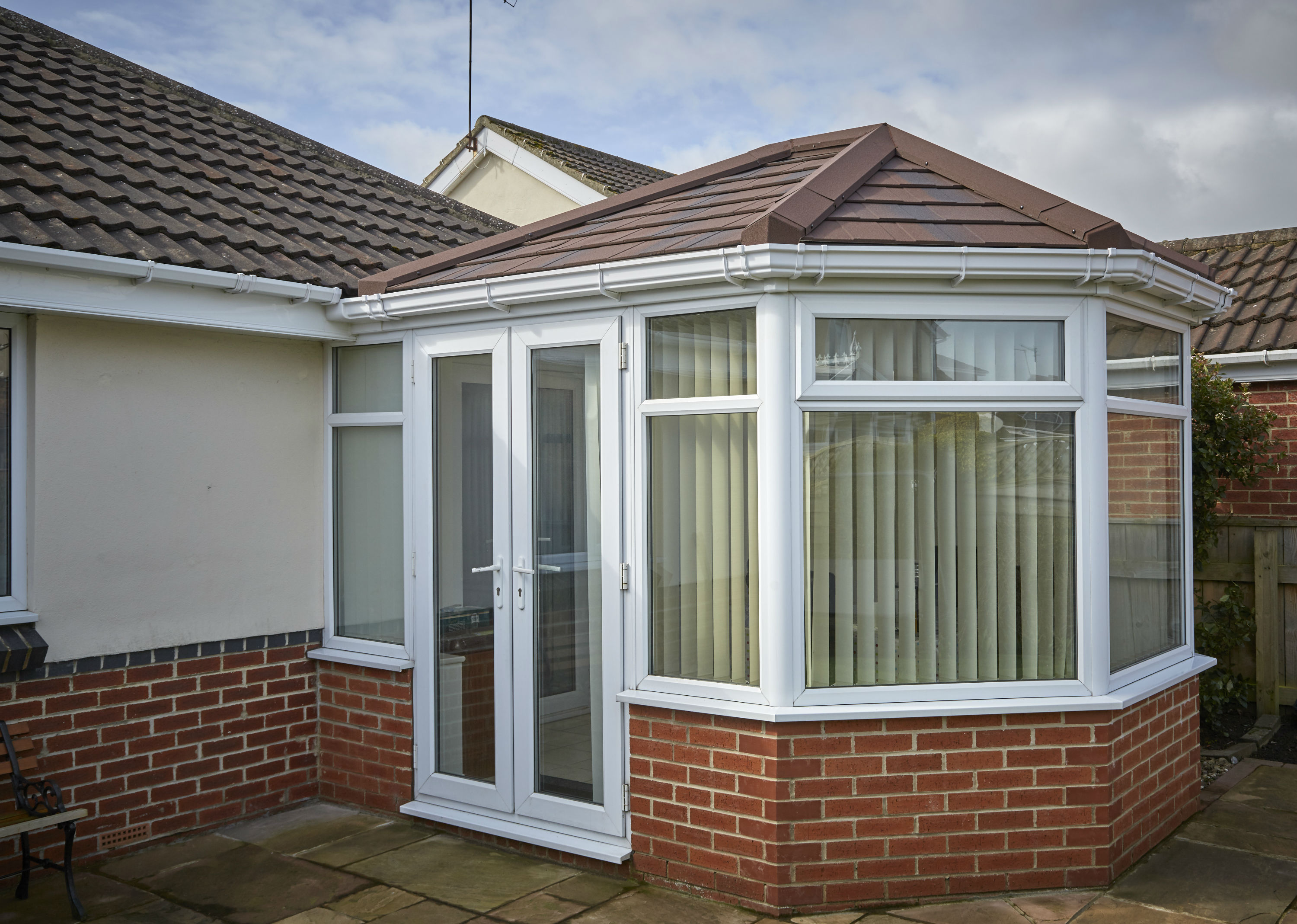 What type of conservatory designs for bungalows are there?
If you need more living space or want create a room to sit and enjoy the sun, these beautiful conservatories for bungalows could be just the trick…
Lean to conservatories for bungalows
This contemporary and fuss-free style is probably one of the most popular conservatories for bungalows because its simple design is easy to adapt for virtually any small home.
Perfect for awkward spaces, it features a low-pitched roof which is usually angled away from the property so that it can tuck neatly under the eaves of the existing roof. Every inch of available floor space can also be used, thanks to its square-shaped corners.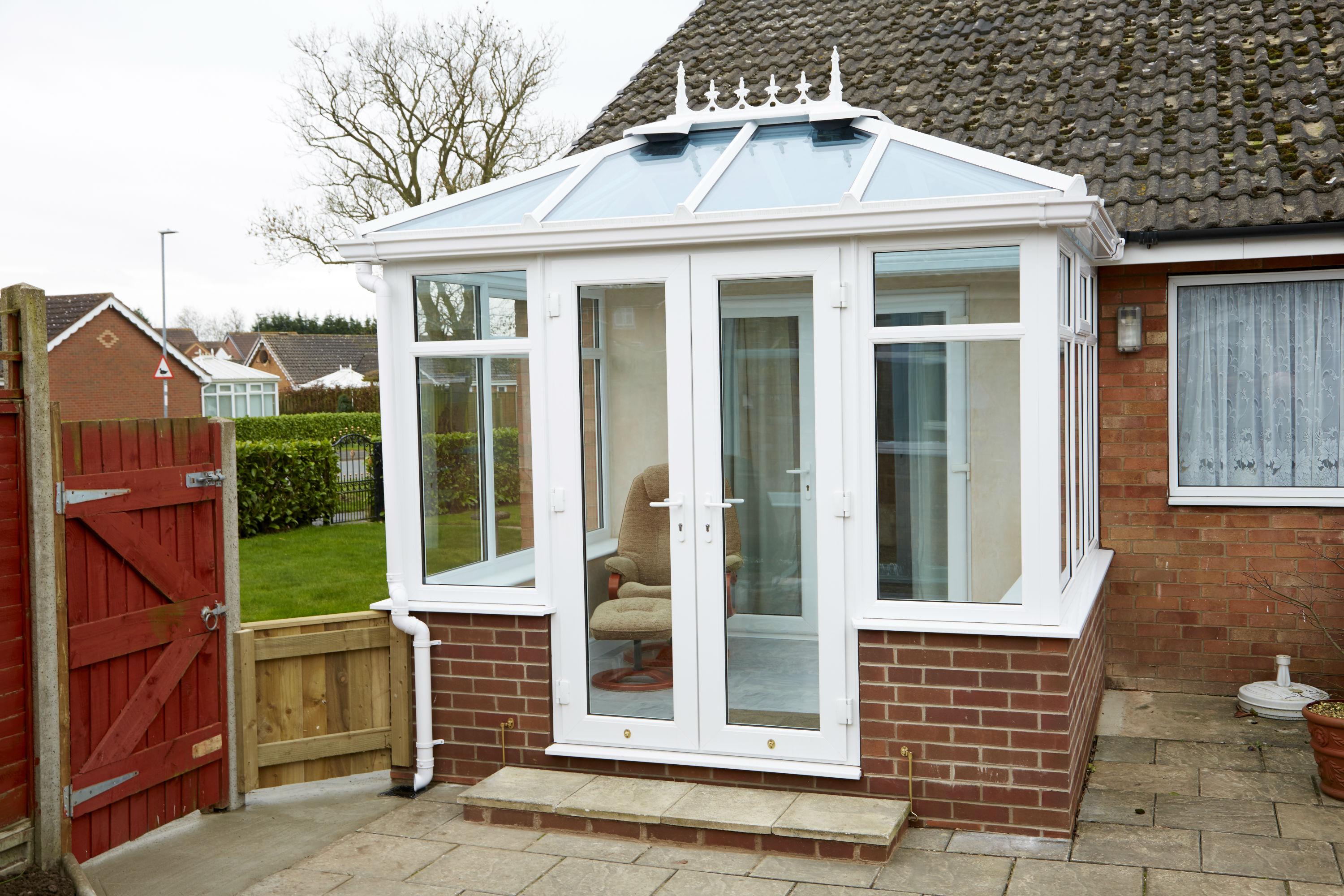 Edwardian conservatories for bungalows
Edwardian conservatories offer much more headroom than a Lean-To because its hipped roof design (pictured above) makes the interior proportions feel bigger. A traditional design that can be nicely adapted for any bungalow, they usually incorporate a 'box gutter' - a heavy-duty aluminium section attached directly to the fascia - to collect the rain water for both roofs.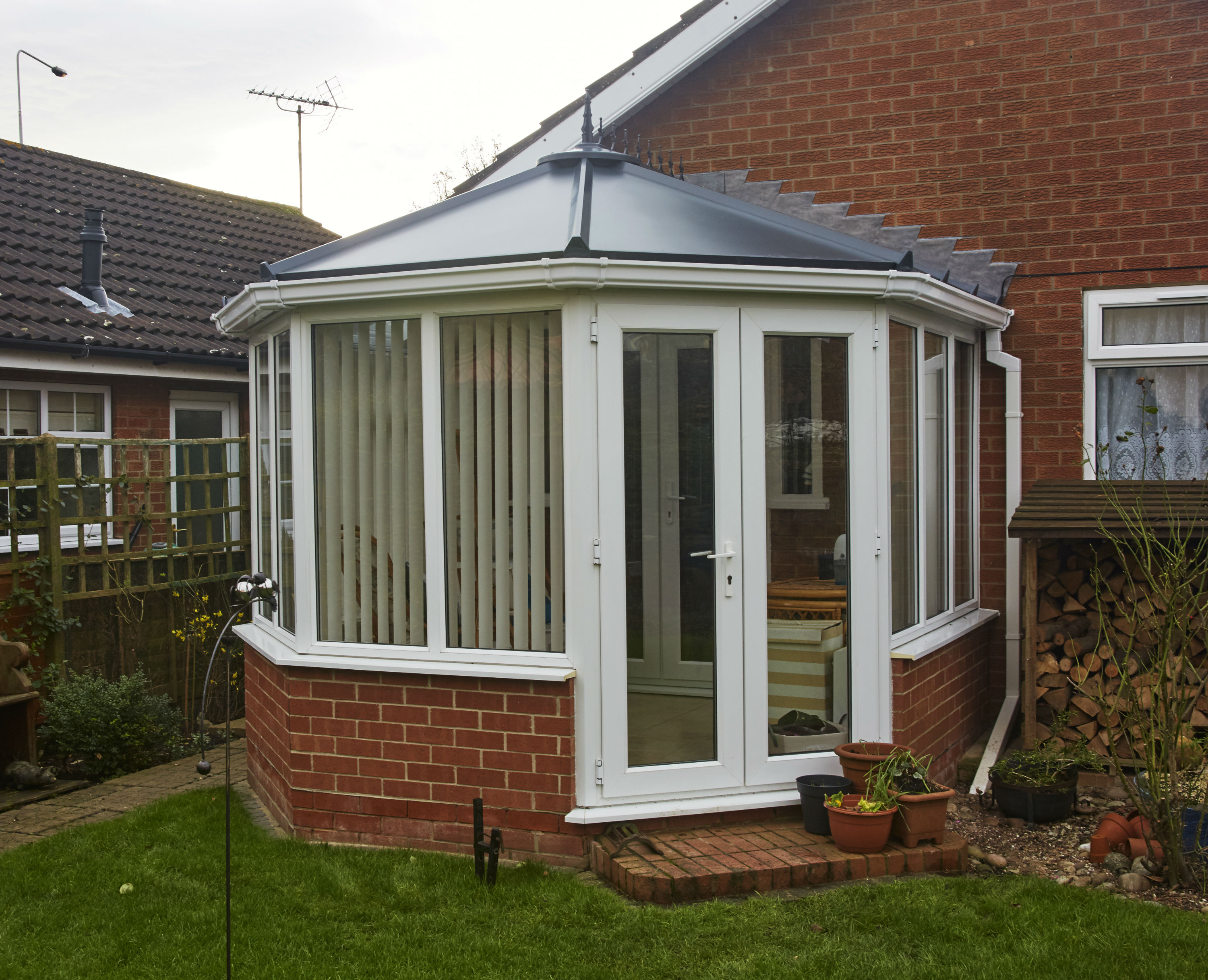 Modern conservatories for bungalows
Constructed mainly from brick and featuring bi-fold doors, modern conservatories are more like an extension than a traditional garden room. Choose our exclusive Hybrid roof and the interior temperature will stay comfortable all year round, whilst letting light flood in through its glazed panels. Opt for a fully-glazed roof and you'll benefit from even more natural light.

Gable end conservatories for bungalows
If you're fortunate enough to live in a bungalow with a gable end wall that's adjacent to the garden, this dream conservatory design (pictured above) could be just for you. Traditional in shape and appearance, it fits directly under the existing roofline and offers the maximum amount of available living space.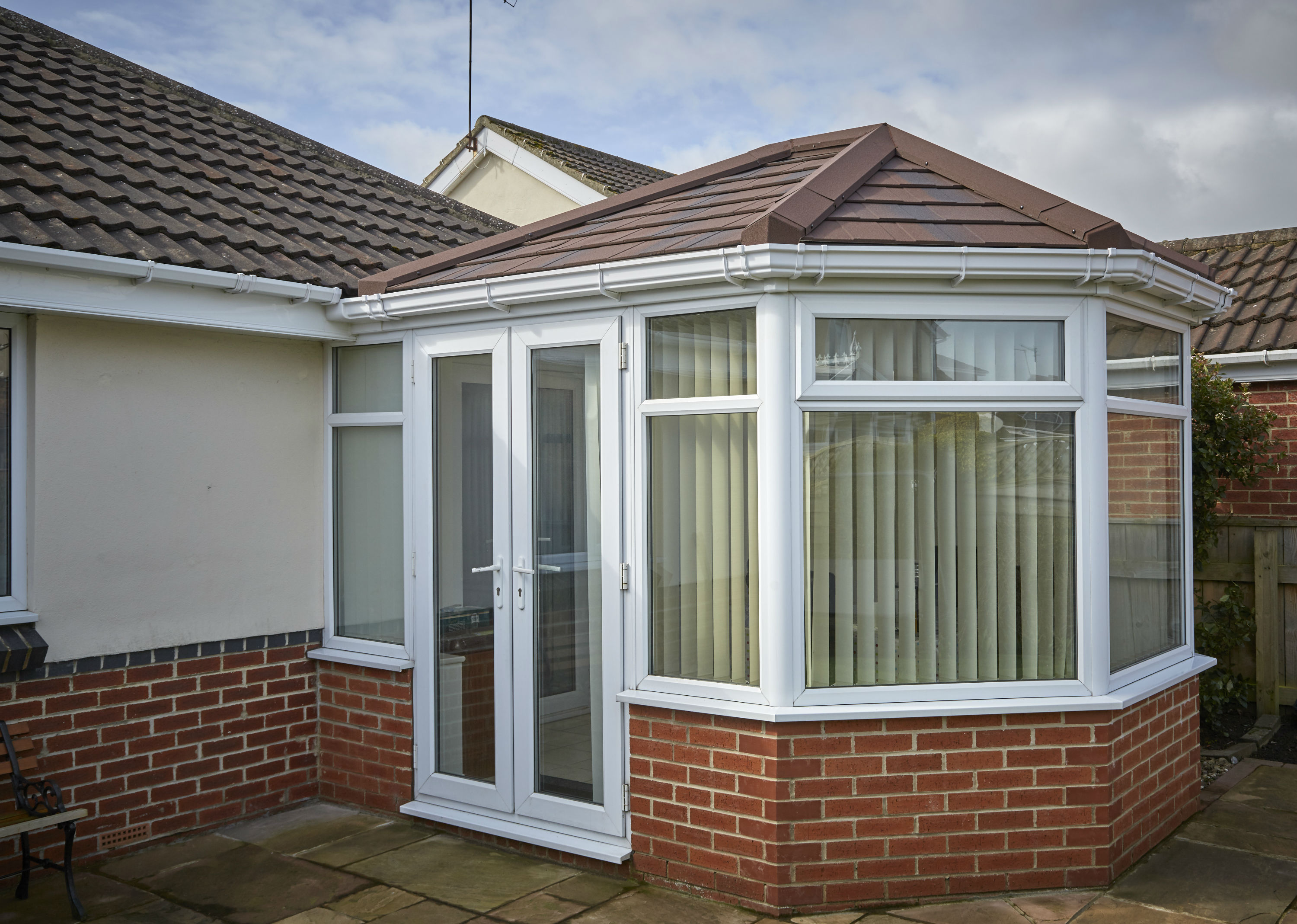 Victorian conservatories for bungalows
This timeless octagonal design (pictured above), featuring a hipped roof and box gutter, can squeeze into the smallest of gardens and is perfect when space is at a premium. Particularly popular as a dining room or reading room.
Dwarf wall bungalows for conservatories
Building a dwarf-wall around 2 to 3 feet in height is the only way to incorporate an internal window cill into your design, which can prove handy for displaying plants or home accessories. If you don't want to use bricks to blend the structure into your bungalow, rendered concrete blocks may offer a modern finish.
Summary of styles and materials
When you're trying to choose between the various conservatories for bungalows, you may want to think about how the space will be used before selecting the final style. Will it be a dining room, study, play room or an extra living room for all the family to enjoy?
With a little bit of common sense (and skill), almost every design can be customised to suit the existing style of your home. But before settling on anything, pay particular attention to the type of roof you want and try to select a frame which can accommodate it.
All you have to do then is choose whether uPVC, aluminium or timber is the best material to turn your home improvement dream into a reality.

Do I need planning permission for a conservatory on a bungalow?
Many bungalow owners mistakenly think that a lean-to conservatory is their only option because of concerns about height restrictions and planning permission.
Thankfully, this is not the case and there is an abundance of choices available.
The planning laws for a conservatory state:
A single-storey rear conservatory must not extend beyond the rear wall of the original house by more than 3m for an attached property or 4m for a detached property.
Visit the Planning Portal for extensive advice about planning permission for conservatories.
For a conservatory to be built under 'permitted development' rights, the height must not exceed the highest part of your bungalow's existing roof (as long as your property has not had any of its PD rights removed).
How much does a bungalow conservatory cost?
The cost of a conservatory depends on the size and style you select, rather than being priced per square metre.
The final amount is determined by how big it is, the materials it's made from and how complex it will be build.
Once complete, a conservatory will typically add as much as it has cost to build in value to your home. If it's of an exceptional quality and complete with a building regulations certificate it could add as much as 7% to your bungalow's value - a shrewd investment.
To calculate the cost of your dream conservatory, get in touch and we'll call you back to discuss your project. Once we know your exact requirements, we'll provide you with a free no-obligation quote – which includes the cost of fitting and VAT.

Consider all your options before making a final decision
As we've tried to outline in detail above, there are an abundance of bungalow for conservatories and your choices are not as restricted as you may think.
Whether you want to use it as a reading room, dining room or living room; there are a lot of things to consider when adding a conservatory to a bungalow.
If you need more living space and your budget is tight, a conservatory will probably be the most cost-effective way to do it. But adding a conservatory to your bungalow won't just increase your space. It will also increase its value and saleability – as well as improving your lifestyle.
Before doing so, think about the lay-out of your bungalow and assess which room will need to provide access to it. Bungalows often come with unusual layouts and, if access can only be achieved through a bedroom, it may be necessary to rethink your floor-plan. Swapping a living room and a bedroom around can sometimes provide the ideal solution.
If you're not restricted by budget, an orangery could provide a stylish alternative - and can be used as the focal point for a modern open-plan interior. As with a conservatory, orangeries can be designed to suit any size property. However, they are more expensive as they feature more brick-built sections, a flat perimeter roof and a central roof lantern.
Ultimately, you need to figure out what's best for your needs - and your budget! Once you've done this, the final decision should then become much clearer.
Should you remain unsure which is the best option for you, please leave your details or call 0800 181888 to discuss your requirements with one of our design experts – we'll be happy to help.