7 stand-out reasons why orangeries are ideal for bungalows
24th September 2018
Compact, cosy and all round lovely, there's no wonder people love living in bungalows. They're truly beautiful homes.
Sometimes, though, they can be just a bit too small… often with a garden which is a bit too big to manage!
Thankfully, even the most tired-looking bungalow can be transformed into a home to be proud of with a little bit of TLC.
If your property is too small and would benefit from some additional floor space or a room which has the wow factor, one of our bespoke orangeries for bungalows could provide the perfect solution - here's why…
More affordable than an extension
There's no point shying away from the fact that orangeries are usually more expensive than the same-sized conservatory.
This is because they're built using more bricks, less glass and have a substantially flat perimeter roof with a central roof lantern.
However, the cost of building an orangery is often far cheaper than it is for a full-brick extension (depending on the design you want), making it a cost-effective way to extend a bungalow.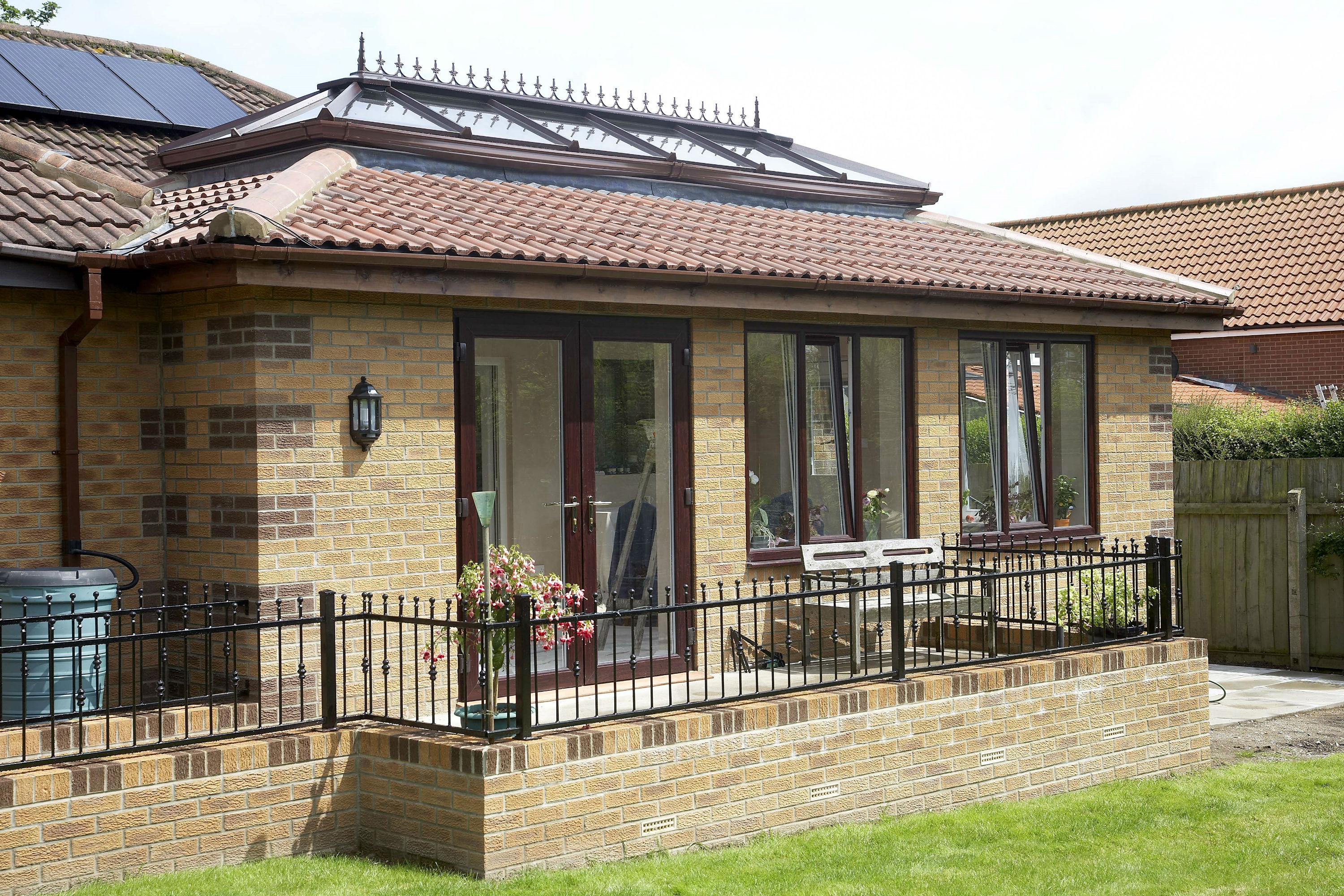 Boost your bungalow's value
Building a beautiful orangery extension on your bungalow won't just make your property bigger and better, it will also increase how much your home is worth.
Time and again, we see people ordering orangeries for bungalows because they feel it's a good short and long-term investment.
Not only will they benefit from having more living space to enjoy, the additional room will also make their home more desirable when the time eventually comes to sell up.

The perfect way to link home and garden
Orangeries blend the best aspects of a conservatory and a traditional extension together to create a room which seamlessly links your home and garden.
It doesn't matter what you want to use the space for, you can guarantee this light and airy room will enjoy superb views of the great outdoors in all weathers.
A fascinating focal point
Orangeries with stunning Skypods or glass roof lanterns sitting proudly on top of their perimeter roof never fail to capture the imagination.
Adding height and natural light, these gorgeous glazed features will give any home the wow factor!
Usable all year round
They may boast a dramatic and ever-changing skyline, but orangeries will not suffer from extreme temperature fluctuations so you can enjoy sitting in them all year round.
This means they're ideal for use as a home office, living room, dining room or as part of a modern kitchen-diner where all the family can be accommodated.

Planning permission often not needed
It's a common misconception that orangeries are unsuitable for bungalows because of concerns about height restrictions and planning permission. This is not true.
In fact, they often don't need planning permission - as long as they don't extend beyond the rear wall of the original house by more than 3m for an attached property or 4m for a detached property.
They can even be built under 'permitted development' rights if the height does not exceed the highest part of your bungalow's existing roof.
Light up your life
Would your bungalow benefit from more natural light?
If so, a luxurious orangery could transform your home into a bright and airy space - thanks to the huge amount of light that comes flooding through its glazed roof opening and into adjoining rooms.

Think and plan your project carefully
Before adding an orangery to your bungalow, it's important to think about how the space will be used, the layout of your home and assess which room will need to provide access to it.
With a little bit of common sense and careful planning, even the most unusual layouts can be altered to accommodate an orangery that will complement your home's existing style.
If you're not restricted by access issues or budget restrictions, an orangery could provide a stylish solution if you need to add a little bit of extra space.
Should you wish to discuss your options in detail, please get in touch or call 0800 181 888 – our design experts will be more than happy to help!