6 inspiring conservatory ideas for summer
20th June 2017
Conservatories connect you to the outside world like no other room in your house.
Designed for pleasure and relaxation, the summer months are when these amazing spaces really come into their own.
Whether it's sipping your breakfast cup of coffee in the early morning sun or reading a book under a clear canopy of stars, you're certain to feel relaxed and at one with the world around you.
But if you want to gaze lovingly at your conservatory's décor as the summer sun sets, you need to choose the right colour scheme and perfect pieces of furniture.

Form follows function when it comes to interior design, which is why it's important to decide whether your conservatory will be used as a dining area, office, playroom, living room or a combination.
Whether you're hunting for conservatory ideas, planning a complete makeover or just looking for ways to freshen things up for summer, take a look at our style tips and be inspired to create a room the whole family will love!
STRIKING ORCHIRD FLORAL WALLPAPER BY COLE AND SON
Make a bold wallpaper statement
When sitting in a conservatory during the summer months, you're sure to have the doors wide open and you'll practically be outside. So why not let your interior design scheme be inspired by nature?
For a simple look that's easy to achieve, use beautiful botanical prints to wallpaper a bold feature wall and leave the rest of the room neutral or white.
If you want to flirt with florals, there are a number of wallpapers patterned with delicate flowers which will add a touch of old fashioned romance. You could also opt for a contemporary combination of tropical flowers and large leafy plant prints to bring the outside in.
Both these bold schemes are super stylish and will let you use colour-coordinated accessories, cushions and other soft furnishings to complete the look. Be sure to limit your palette to a maximum of two or three colours to prevent the room from becoming twee.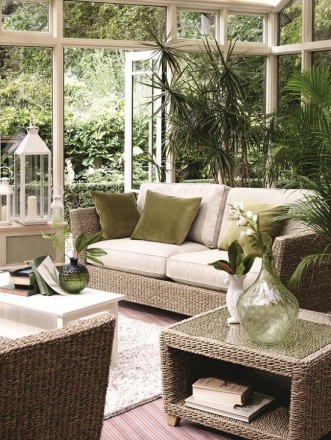 LUXURY RATTAN FURNITURE BY MARKS AND SPENCER
Mix and match furniture
Before choosing the right furniture, think about your conservatory ideas and consider how you will to use the space. On warm summer mornings, you might want it to act as a breakfast room before being used as an additional lounge or playroom later in the day.
Rattan furniture is a timeless conservatory classic and worth considering for its durability, especially when exposed to sunlight. But it's not the only option.
Bold coloured garden bistro sets take up very little space, are very affordable and come in a wide choice of materials such as wood and metal. Combine with some colourful cushions and you can make the seats much more comfortable. Team with an armchair or two and your room will feel functional and fresh whether you're having a morning coffee or relaxing in the last of the evening sunshine.
Mixing dark natural woods like teak or walnut is effortless. For a contemporary look, pair with a plain coloured material sofa or two mismatch armchairs.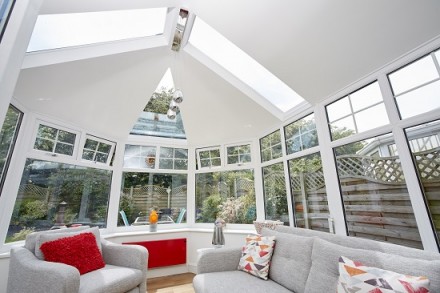 Ikea, Tesco Direct, John Lewis and Marks & Spencer are great place to start when looking for items which suit your style and budget. If you don't want to break the bank but fancy switching things up for summer, browse your local eBay listings and unearth the perfect pre-loved piece.
Keep colours light and bright
Colour holds the key to the overall look and feel of your conservatory so it's important to choose wisely, especially when it comes to summer.
Embrace colours that will be enhanced by the additional hours of daylight, such as light blues and subtle shades of greens, because these will help make the space seem much bigger.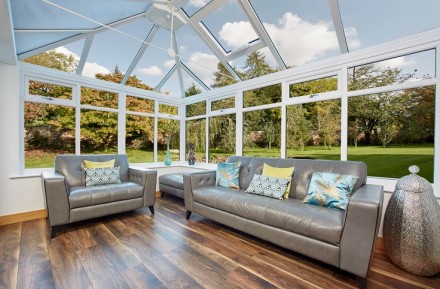 White is also a contemporary classic. Always bright and airy, it complements most other colours and takes full advantage of the extra natural light available in a conservatory. Use it wisely and it will provide the perfect backdrop for injecting some brightly-coloured summer accessories like lamps, blinds, cushions and mirrors.
Soften the summer sun
Sunny summer days obviously make more heat build-up inside a conservatory than at any other time of the year. Installing blinds can prevent this and reduce glare. But they don't just have to practical, they can be aesthetically pleasing too.
Leafy green prints look stunning against a backdrop of white walls, whilst vertical stripes can successfully create a nautical or coastal theme. To soften summer light and achieve ambience, opt for plain blinds made from linen or a muslin equivalent.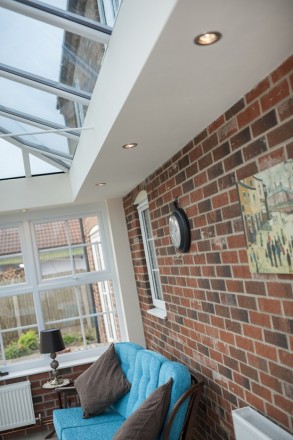 Make your light fantastic
Relaxing in your conservatory is one of the best ways to enjoy the long summer days, but it's important not to neglect your view of the garden on warm balmy evenings.
Ditch the overhead lighting in favour of low-level lamps, which will produce less reflection and glare, so you can sit and enjoy the great outdoors even when the sun's gone down. Strategically placed downlighters and wall lights allow you to add little pockets of ambience to any conservatory setting.
If you want to go all out, why not consider angling coloured bulbs onto permanent features in your garden? Green lights are great for illuminating plants and tree trunks, whilst cool blues can help enhance architectural ornaments or a water feature.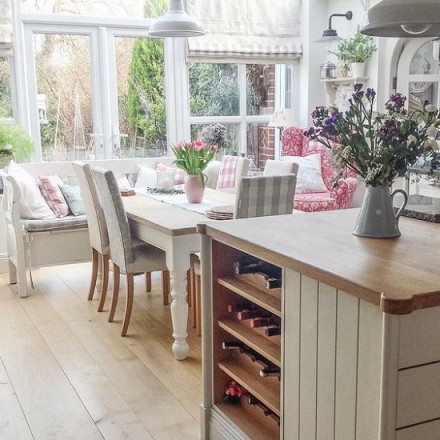 Say it with flowers
Adding plenty of real flowers and plants is the cheapest (and easiest) way to blur the lines between your indoor and outdoor spaces in summer. Ferns, palms and exotic flowering plants will flourish in a conservatory during the warmest months of the year, providing the perfect balance to the natural greenery in the garden beyond.
Discuss your conservatory ideas with us
If your conservatory is looking tired and you want to find out how much a new one would cost, we are currently offering up to 30% off online orders.
To take advantage of this offer, please enter your contact details online or call 0800 181888 now!