6 cold conservatory solutions to suit every budget
4th January 2018
Choosing the right conservatory can add valuable extra living space to your home. Whether you prefer a contemporary or traditional look, blending it seamlessly into your existing property will make it look much more aesthetically pleasing.
Whilst some conservatories look inviting, unfortunately they don't always come with a regulated temperature to match its welcoming appearance. Older conservatories in particular can be much too cold to use in winter.
If you frequently ask yourself 'why is my conservatory so cold?' you might be one of the people who falls into this bracket.
Fortunately, there are several cold conservatory solutions that will make your space warmer and more energy-efficient – no matter how big or small your budget may be.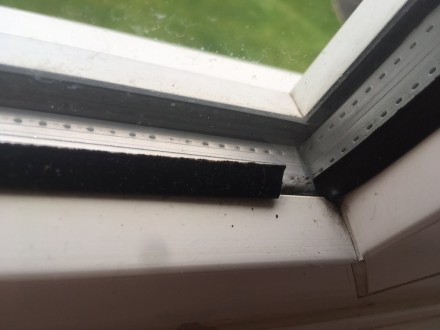 1. Find the source of the leak
Before coming up with ways to warm up your conservatory, it's a good idea to locate any problem areas where draughts may be coming in.
Check to see if all external windows and doors can close properly. If there are gaps where cold air can creep in, your conservatory might be getting old losing its energy efficiency.
An immediate and low-cost solution is to plug the gaps with sealant. Unfortunately, this is not really a long-term solution and you'll probably need to revamp the space eventually.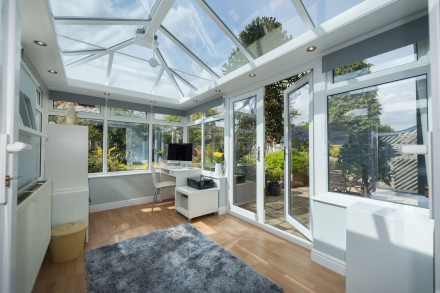 2. Focus on the flooring
As one of the biggest surface areas in your conservatory, the floor can feel chilly in winter. Putting a large rug down is a relatively cheap way to warm your feet and add insulation.
If you do have a bigger budget, you may want to install underfloor heating for a hard floor area or consider putting down a carpet. Both of these will help to achieve a comfortable temperature in the winter.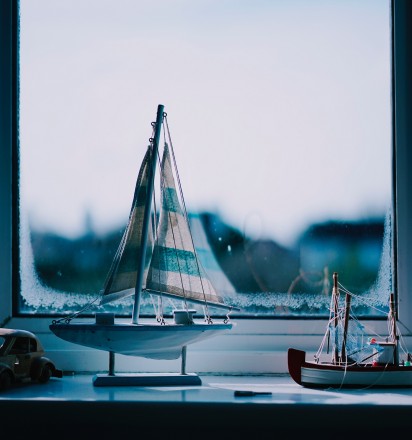 Picture credit: Charlie Harutaka
3. Do away with any damp
Damp will drive down the temperature in any room, not just a conservatory, and it is usually caused by a lack of ventilation. Try opening the doors which separate the conservatory from your main home to improve the airflow and help eradicate the problem.
Using a dehumidifier will control the amount of moisture in the room and reduce the risk of spores turning into mould, which is a health hazard and can aggravate existing conditions like asthma.
Beautiful pleated blinds available from Conservatory Blinds Ltd
4. Install blinds or curtains
Curtains or blinds are a cheap and cost-effective way to keep a conservatory warm, but their insulating qualities are often overlooked. Blind are usually the preferred option in a conservatory, but they will both reduce heat transfer in the same way.

5. Heat it up!
There are now a wide range of conservatory heaters available that will raise the temperature and keep your living space feeling much warmer. But it pays to do your research before deciding which type is the best cold conservatory solution for you.
As a conservatory specialist with years of installation experience, here are a few pointers…
Radiators: With much of a conservatory's heat being lost through the glass, it is important to have a permanent heat source to combat the cold in winter. Radiators which are connected to your central heating system are usually considered as the most efficient way to do this. Installing them will require Building Regulations approval, but in the long term the benefits will make it a worthwhile investment. Electric radiators are a popular alternative because they're fairly cheap to buy and can be installed without too much disruption. The best way to use them is to turn them on when the roof is in use. The main drawback when compared to a traditional radiator is that do cost more to run.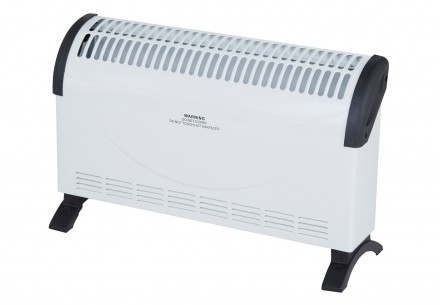 An electric panel heater available for sale at B&Q
Portable Electric Heaters: A quick and convenient way to inject heat into a cold room, portable electric heaters are perfect for conservatories on cold winter mornings. Even if you have another heating system in place, using a fan heater will give your room an instant boost until the main heat source kicks in. Infrared heaters conservatory heaters are also available which throw out heat that can be absorbed by the floor and furniture. All of these will provide instant warmth to every part of a room, but they're quite expensive to run compared to other cold conservatory solutions. Oil-filled radiators take longer to heat up, but once they are they'll continue to disperse heat for hours – even after they're turned off. Radiant heaters or electric panel heaters offer almost the same benefits, generating heat by passing electricity through a heating element. These two options are relatively cheap to buy, easy to use and sometimes cheaper to run too.
Underfloor heating: Without doubt, underfloor heating is one of the best cold conservatory solutions because it can easily be retro-fitted and doing so will guarantee to make a conservatory warm during winter. It comes in either a 'wet' system, which circulates hot water beneath the floor in pipes, or a 'dry' one, where pads of filaments are heated using electricity. Whichever system you opt for, in the long term it will usually be more energy efficient than most of the traditional methods mentioned above. It also tends to feel much warmer because the heat rises directly up from the floor, passing through you and your furniture.

6. Replace the roof
Conservatory roofs are notorious for allowing heat to escape, especially ones which were built more than 10 years ago.
Unfortunately, older conservatories are more likely to be too cold to use (particularly in winter) because they were fitted with either a polycarbonate roof or double-glazed glass roof that had very few insulating properties.
When trying to find the best cold conservatory solution for your home, a detailed inspection of the roof should be a top priority.
Thankfully, advances in manufacturing and glazing technology mean that it is now easier to prevent heat from escaping though the roof. Doing this is proven to reduce the amount of money you spend on energy bills.
Although some homeowners are reluctant to replace a conservatory roof with a solid option, there's no need to be because it's quick and easy to do.
Outlined below are two solid conservatory roof options which are a cost-efficient way to turn a cold conservatory into a comfortable space you can use all year round.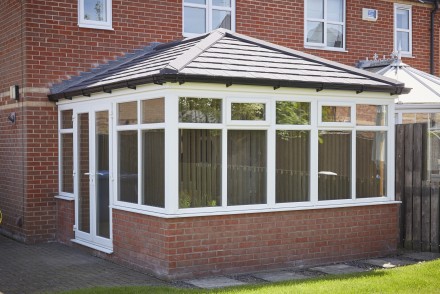 Tiled conservatory roofs
Modern tiled conservatory roofs have a superb thermal performance and will make your living space much warmer. They'll also keep the interior temperature cool in summer - so you can use the room all year round.
Whilst they look similar to a roof that you'd find on an extension or traditional bricks-and-mortar build, they are actually much lighter in weight and can be added to almost any style of conservatory. As long as the existing frame is strong enough to support it, a tiled conservatory roof can be retro-fitted in to place - no matter who manufactured or installed the original conservatory. It may sound like a big project, but most of these transformations take less than a week to complete and, as our customers will testify, this is one of the most cost-effective ways to raise the temperature of a cold conservatory without replacing the whole structure.
Discover how a tiled roof transformed an old conservatory from drab to fab!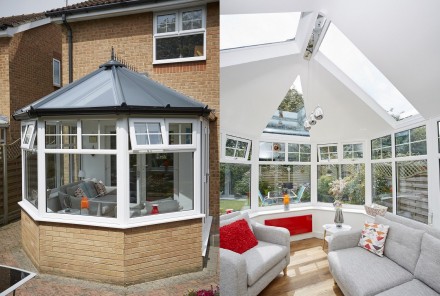 Hybrid roofs
If your vision of a conservatory is a space that's flooded with natural light, a Hybrid roof is the perfect solution for a cold conservatory. Using a combination of powder-coated aluminium vaulted roof panels and glass panels with enhanced insulation, this solid roof will let sunlight in but prevent heat from escaping.
Completely bespoke and able to replace any existing glass or polycarbonate roof, they can also be added to almost any conservatory – creating a comfortable temperature in all seasons in a matter of days.


Find a cost-effective solution that's right for you
Keeping a conservatory warm can be done, but it depends on the materials which have been used to build it and the type of heating system that's been installed.
As a rule of thumb, the cheaper the heating solution is to buy, the less efficient it will be. Buy cheap, you pay twice – as they say!
If you are planning to invest in your conservatory, take a long-term view and consider all the pros and cons before making any purchasing decisions.
Advances in glazing technology and modern construction methods can sometimes mean that, in the long run, it's cheaper to completely replace an old conservatory rather than update one that's no longer energy efficient.
You could use the existing base to design a new layout, incorporating more full-height cavity walls and a thermally-efficient roof, to create a living space which is warm and comfortable to use all year round.
For free and friendly advice from one of our experts, get in touch or call 0800 181888 today!